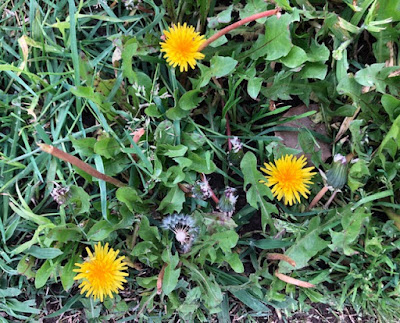 Dandelions may be the easiest weed to identify,
if not always to eradicate. Other weeds are trickier.
(Photo: Kathy Morrison)
Weeds are sneaky, often resembling plants we may want in the garden. This month's free webinar from the UC Integrated Pest Management Program is designed to help gardeners identify and control weeds in gardens and landscapes.
"Weed Identification" will be presented at 1 p.m. Thursday, Aug. 19. John Roncoroni, weed science farm adviser emeritus, is the instructor for this session. Webinars run for one hour. The series is free and open to the public but advance registration is required. Register here.
The next webinar, "Identifying Insect Pests in the Home and Garden," will be presented 1 p.m. Sept. 16, presented by Elaine Lander of the UC Statewide IPM Program. Registration for that webinar is here .
Past webinars in this year's series are
listed here
; recordings of those webinars will be posted but haven't yet. (The UC ANR websites have been having issues lately.) Topics there include rodents, household pests and plant diseases.
-- Kathy Morrison