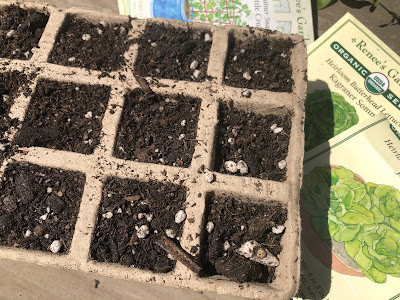 Still summer outside, but on the vegetable-planting calendar,
it's time for lettuce and other greens. (Photo: Kathy Morrison)
It's time to think cool (and we don't mean air conditioning).
During the heat of August while we're still (hopefully) picking tomatoes, turn your attention to lettuce – plus other cool-season greens and winter vegetables.
Where to start – and how? Learn the basics during a free Zoom workshop at 9 a.m. Saturday, Aug. 28.
Presented by the UC Cooperative Extension Master Gardeners of Nevada County, this one-hour webinar will pay special attention to the challenges of cool-season gardening at higher elevations. But there will be plenty of tips and valuable information for gardeners in the Valley, too.
"Broccoli, Lettuce & Kale, Oh, My! Growing Cool-Season Vegetables in the Foothills" will discuss transitioning from summer to cool-season vegetables, planning, soil preparation, seed starting, planting and more. The master gardeners also will share secrets of extending summer veggies into late fall or winter and likewise stretching lettuce season deep into spring (and maybe even summer).
"It's hot right now, and time for sitting in the shade and enjoying summer vegetables," say the master gardeners in their workshop introduction. "And a great time for planning your cool season garden! Join us now to learn how to get broccoli, lettuce and kale from your garden in the winter and spring.
"What do you want to grow? We'll talk about cool-season garden planning and preparation, microclimates, season extenders and much more. Join us to learn how to keep your garden more fertile and productive almost year round."
Anyone with an Internet connection is invited to Zoom in. No advance reservations are necessary.
For the link and more details:
http://ncmg.ucanr.org/
.