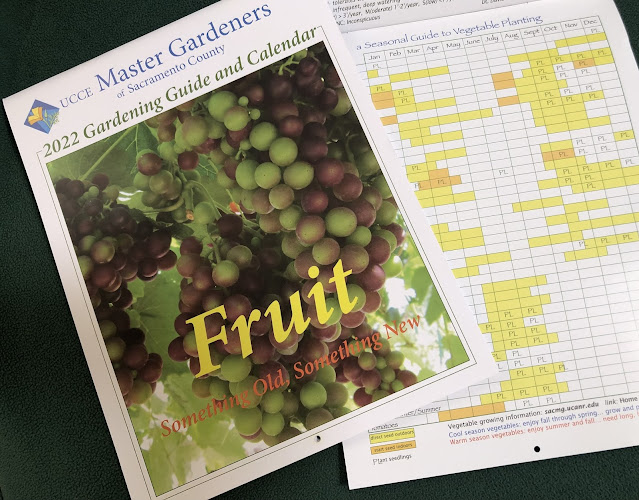 Fruit is the theme for the newest Gardening Guide and Calendar. At right is the
seasonal vegetable planting chart in the 2021 edition; it's also in the 2022 publication. (Photo: Kathy Morrison)
Long before I became a master gardener, I was a fan of the Gardening Guide and Calendar published by the Sacramento County MGs.
It is packed with useful information on gardening cycles, as well as being a swell place to keep track of garden activities throughout the year.  Because, you know, it's easy to forget when certain chores were done. (Let's see, the potted citrus were last fertilized when?) I also track heat waves and other weather events on mine.
The theme of the 2022 Gardening Guide is "Fruit: Something Old, Something New," with lots of tips for growing favorites such as apricots, strawberries and cherries. The calendar pages feature photos of some of the yummiest fruit crops this side of the farmers market. My favorite is the one of grapes that graces the cover. (I was able to help with the guide this year, including voting on that cover photo.)
The "Something New" part of the gardening guide covers unusual fruit crops to grow, such as goji berries and lychees. It also has information on native California fruit such as toyon ( Heteromeles arbutifolia ) and golden currants ( Ribes aureum ).
Standard (and invaluable) parts of the Gardening Guide are the seasonal chart for vegetable planting, the huge list of UC resources such as pest notes,  and monthly reminders for garden care.
The Gardening Guide and Calendar still is priced at $10, including tax. It can be ordered online (mailing adds a few dollars to the price) or purchased in person at Sacramento County master gardener events such as the upcoming Sept. 11 Open Garden at the Fair Oaks Horticulture Center.
Retailers including The Plant Foundry, Emigh Hardware, Fair Oaks Boulevard Nursery and Talini's Nursery also carry it; prices may vary.