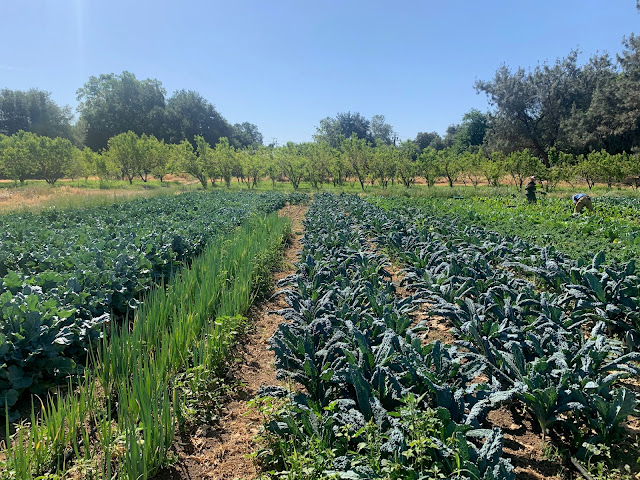 Soil Born Farms in Rancho Cordova will be busy Saturday morning before temperatures climb. (Photo courtesy of Soil Born Farms)
Smoke or no smoke, Soil Born Farms' popular fall gardening clinic and plant sale will go on.
Set for 8 a.m. to 1 p.m. Saturday, Aug. 28, this free event at American River Ranch features workshops, farm tours and garden walks. Several hands-on opportunities will be available for kids.
In addition, the event includes a huge organic plant sale stocked with cool-season vegetables, fruit trees and herbs. Customers may order plants online in advance at the farm's online marketplace and pick up Saturday by appointment via the farm's Drive-Through. Fresh produce and local products also are available for pre-order and pick-up at the farm.
Sacramento County's oldest continuing working farm, American River Ranch is located at 2140 Chase Drive, Rancho Cordova. Details, directions and plant ordering information online at
www.soilborn.org
.
Poor air quality due to wildfires and heat may restrict some planned outdoor activities. According to the National Weather Service, Saturday's Sacramento forecast calls for widespread haze and an afternoon high of 102.
But overnight lows Friday night will keep Saturday morning comfortable. Plan on getting out to the farm early!
With Covid-19 still surging, face masks are encouraged for any event, including outdoors. (An N95 or similar face mask helps protect against smoky air as well as virus.)
Attendance for workshops and tours are limited. Get your free tickets at the Purple Class Check-in Tent on Saturday morning. Here's the schedule:
Classes
8:15 a.m. -- Preparing a Fall Garden with Shawn Harrison, Soil Born Farms
9:30 a.m. – Gardening with Native Plants with Mark Shaffer, California Native Plant Society
10:45 a.m. – Raising Backyard Chickens with Greg Howes & Brian Fikes, Two Flew the Coop
Noon – Fall Fruit Tree Planting & Care with Shawn Harrison, Soil Born Farms
Walks & Talks
8 a.m. -- Pollinator Garden Walk & Talk with Cliff Hawley, Naturalist
8 a.m. – Explore Cordova Creek Walk & Talk with Shannon Hardwicke, Educator
9 a.m. – Farm Tour with Tyler Stowers, Farmer
10 a.m. – Herb Walk & Talk with Kellan MacKay, Herbalist