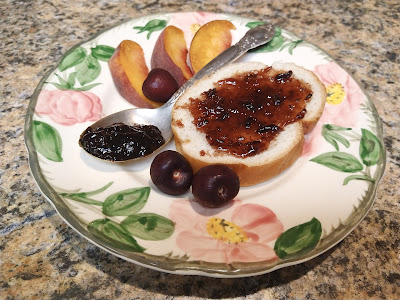 The mix of fruit and spice works on bread or with
meats. (Photos: Debbie Arrington)
"Conserve" lives up to its name. This age-old technique makes the most of summer's sweet odds and ends, creating a jammy condiment as versatile and varied as its ingredients.
Tutti frutti – or "all fruits" – combines an array of summer favorites – fresh or frozen. For this batch, I used fresh peaches, Bing cherries and frozen Italian purple plums (remaining from last year's crop).
By tradition, conserve uses at least two kinds of fruit, cooked with sugar. A green apple provides any necessary pectin. Raisins and, if desired, nuts are added to the mixture along with orange zest and juice. The nuts provide texture to go along with the sweet-tart fruit.
If used, wine smooths out the fruit flavors and also helps meld the colors. Red wine intensifies the purple.
Some conserves are intentionally chunky and best used as a dessert topping or alongside grilled or roast meats. Ingredients in this conserve are finely chopped, allowing the fruit mixture and raisins to cook down into an almost smooth jam. That consistency also works on desserts or next to meats, but is just at home on toast, bread or crackers. Team it with brie for an easy appetizer, too.
The conserve can be frozen or water-bath

canned or frozen for later enjoyment.

Tutti frutti summer conserve
Makes about 3 half-pints (3 cups)
Ingredients:

1 orange

3 cups mixed fruit (peaches, plums, cherries, nectarines, pluots, etc.), pitted and finely chopped

1 Granny Smith or similar apple, cored and chopped

1/2 cup water or wine

½ cup raisins, chopped

1 stick cinnamon

2 to 2-1/2 cups sugar, depending on sweetness of fruit

¼ cup finely slivered almonds (optional)

Instructions:

With a zester or vegetable peeler, remove zest from orange. Cut zest into thin strips. Cut strips into 1/2-inch pieces. Set aside.

Juice orange pulp; set aside juice.

Use at least two varieties of summer fruit, fresh or frozen. Peel peaches, but otherwise fruit can be unpeeled. Pit and finely chop fruit. Put fruit in large heavy pot. Stir in orange juice and water or wine.

Core and finely chop apple. Add to pot.

Rehydrate raisins with ½ cup boiling water. Drain and chop. Add to pot. Add cinnamon stick.

Over medium heat, bring fruit mixture to boil. Cover and reduce heat. Simmer until fruit is soft, about 10 minutes. Add orange zest.

Add sugar to fruit; stir to blend. Increase heat and return briefly to boil. Reduce to simmer.

Simmer uncovered, stirring often, until mixture becomes jammy and will mound on a spoon, at least 20 minutes. Add water if needed to prevent sticking and scorching. Remove cinnamon stick. Stir in almonds, if desired.

Ladle hot mixture into prepared jars and seal Process in boiling water bath for 10 minutes. Cool.

(Conserve also may be stored in refrigerator for up to 1 month or freeze for up to 1 year.)