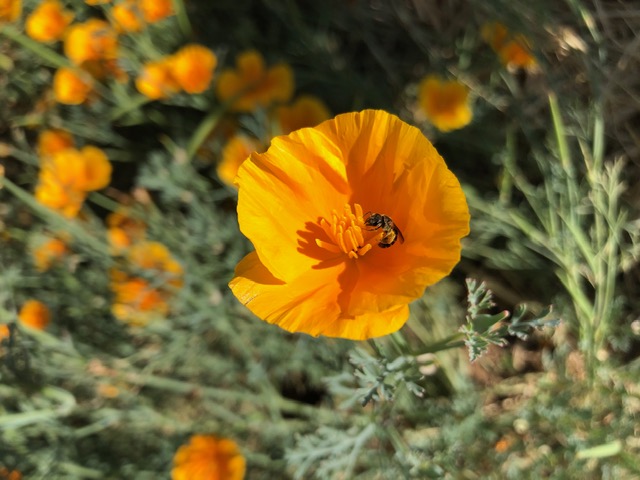 Poppies do best when planted from seed in fall. They're low-water plants that regrow from their long
taproot. And bees love them. (Photo: Kathy Morrison)
Each spring, many Sacramento gardens -- as well as nearby hillsides -- are dotted with golden California poppies, our state's official flower. But don't wait until March to think about planting poppies.

When's the best time to plant California poppies and other native annuals? Early fall, just as nature would do.
California poppies, as do many other natives, benefit from planting in September and October while the ground is still warm. Winter rains (hopefully) give them any moisture they need until spring. And then they burst forth in their colorful show.

Related to carrots, poppies have very long taproots and don't transplant well. So, scatter their seed where you want to see flowers.
Scratch their fine seed into the surface; it only needs to be covered by about 1/16th inch of soil. The seed sprouts about three weeks after the first rain. Then, the young plants have plenty of time to develop their deep roots. Planted now, these poppies will be ready to bloom in late February or March.
Poppies have built-in drought tolerance and need only minimal irrigation, if any. They're also not choosy about soil, as long as it has good drainage.

Once established, poppies come back year after year. They're actually a perennial, re-sprouting from that same taproot that allows them to get by with little water. But they also reseed freely.