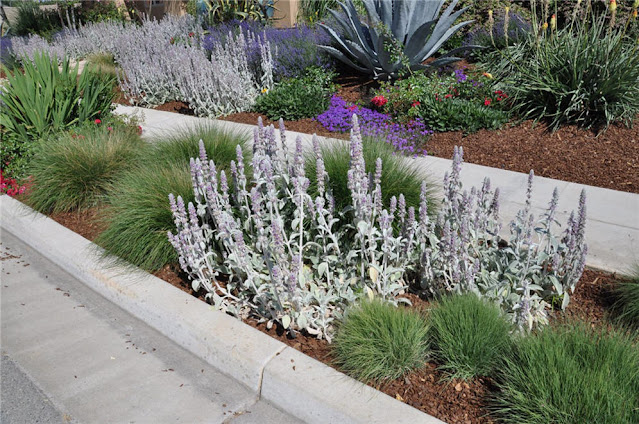 Mulch helps your plants make the most of available moisture while also cutting down on weeds. (Photo courtesy GardenSoft and Regional Water Authority)
Circle Saturday, Sept. 25, on your garden calendar. It's Mulch Mayhem, a great way to help your plants and save water, too.
Sponsored by the Regional Water Authority and local water providers, this free event provides mulch just in time for fall planting. But get there early; Mulch Mayhem starts at 8 a.m and lasts until noon (or when all the mulch is gone).
According to irrigation and gardening experts, mulch slows evaporation, moderates soil temperature, beautifies landscapes and even controls weeds. As it breaks down, mulch also adds nutrients to the soil to help your plants grow.
Water-efficiency managers estimate that Sacramento-area residents can save 30 gallons of water for every 1,000 square feet of landscape, just by adding 2 to 3 inches of organic mulch around plants and 4 to 6 inches around trees. Organic mulch includes leaves, wood chips, straw, etc. – not rocks.
When mulching around trees or shrubs, make sure to leave about 6 inches of space around the trunk to avoid crown rot.
Available to customers of the participating water agencies, free mulch is limited to one cubic yard per customer (enough to fill a pickup truck) and must be for personal use only.
Mulch will be available on a first-come, first-served basis until supplies are gone. Customers are encouraged to bring their own shovels, containers, tarps or other items to cover the mulch in transport and must provide their own way to haul it away.
Contact your water provider for more details. (Not sure who your provider is? See
www.bewatersmart.info
.)
Here are the Mulch Mayhem participating sites.
Sacramento County
Sacramento Suburban Water District, Enterprise Site
917 Enterprise Drive, Sacramento
Hosted by Sacramento Suburban Water District
Details: 916-972-7171 or
sswd.org
Carmichael Water District
7837 Fair Oaks Blvd., Carmichael
Hosted by Carmichael Water District
Details: 916-483-2452 or
carmichaelwd.org
City of Sacramento South Area Corporation Yard
5730 24th St., Sacramento
Hosted by the City of Sacramento
Details: 916-808-5605 or SacWaterWise.com
Placer County
Sierra College, Overflow Lot
Corner of Rocklin Road and El Don Drive (opposite the campus), Rocklin
Hosted by Placer County Water Agency and San Juan Water District
Details: 530-823-4850 or
pcwa.net
or
916-791-2663 or
sjwd.org