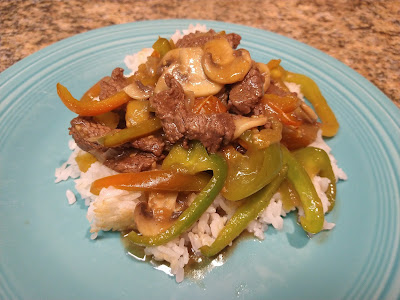 Cherry tomatoes and wine add complexity to this
pepper steak stir fry. (Photos: Debbie Arrington)
Bell peppers don't have to be perfect for pepper steak. They can be lopsided, sunburned or under size. Trim off any bad spots and thinly slice the rest.
Pepper steak is a Chinese American staple. This version has a distinctly California twist; cherry tomatoes and wine add complexity to the sauce. (Chopped full-size tomatoes can be substituted.) For this recipe, yellow cherry tomatoes were used, adding some extra sweetness.
Two tips: Start with a frozen steak, slightly defrosted. It's much easier to slice crosswise, very thin. (For this recipe, a bistro filet – teres major or shoulder cut – was used, but other cuts work well, too.)
Chop first, then cook. Prepare vegetables before starting to stir fry. It may seem like there will be plenty of time for chopping while cooking, but stir fry demands constant attention (and stirring).
Want a spicier pepper steak? Substitute some sliced Anaheim or similar peppers for part of the bells.
Pepper steak
Makes 4 servings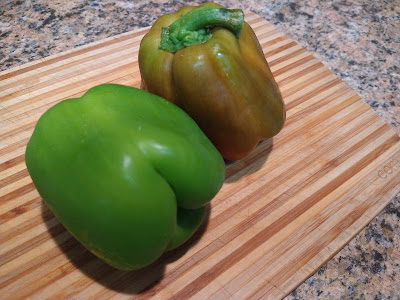 Imperfect peppers work just fine in pepper steak.


Ingredients:
1 pound beef steak
Marinade:
2 tablespoons cornstarch
1 tablespoon sugar
3 tablespoons soy sauce
2 tablespoons wine or sherry
1 tablespoon red wine vinegar
½ teaspoon red pepper flakes
½ teaspoon ginger
For stir-fry:
4 tablespoons oil, divided
2 cloves garlic, minced
½ cup onions, chopped
1 cup mushrooms, sliced
2 cups bell pepper, thinly sliced
1 cup cherry tomatoes, halved
½ cup chicken broth
Instructions: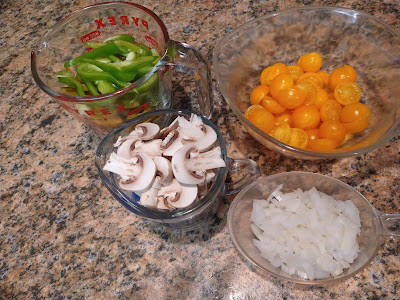 Prep all the ingredients before starting to cook.
Slice steak across the grain into thin slices, trimming off any fat.
Prepare marinade. In a glass or ceramic bowl, combine cornstarch and sugar. Whisk in soy sauce, wine and vinegar. Add pepper flakes and ginger.
Add beef slices to marinade. Cover each slice well. Set aside.
In a large wok or frying pan, heat 2 tablespoons oil over medium heat. Sauté garlic until fragrant (about 30 seconds). Add chopped onion and sauté until translucent, about 2 minutes. Add mushrooms, sauté another 2 minutes. Add bell peppers, sauté another 2 minutes. With a slotted spoon, remove vegetables from wok and set aside.
Return wok to heat and add remaining oil. Swirl oil around wok to cover as much of surface as possible. Remove beef slices from marinade, retaining soy mixture. Add beef slices to wok, working quickly and distributing evenly around wok surface. Stir fry beef until lightly browned on both sides, about 2 minutes. Add tomatoes to beef, stir and cover wok; cook 2 minutes.
Return vegetables to wok and stir into beef-tomato mixture. Add chicken broth and any remaining marinade. Stir, then cover for 2 minutes.
Uncover and stir, scraping up any brown bits into sauce. Adjust seasoning and consistency, if necessary.
Serve hot over rice.