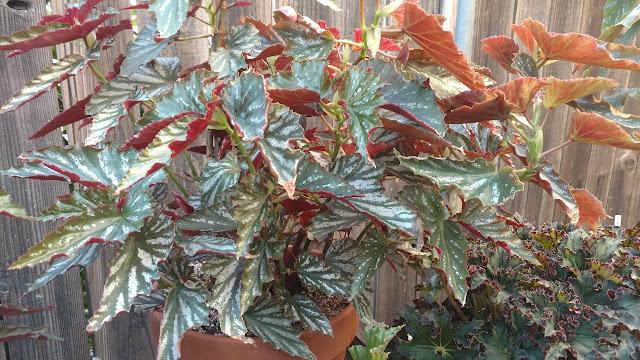 Angel-wing begonias will be among the many kinds on display. (Photos: Debbie Arrington)
September is begonia time in Sacramento. And local begonia lovers are ready to celebrate.
After no show in 2020, the Sacramento begonia show returns to Shepard Garden and Arts Center this weekend with an appropriate theme: "Begonias Together Again."
"We hope to see you at our show," wrote club members in their invitation. "Our show last year was canceled, and we're so happy to be 'Together Again.' "
Hosted by the Joan Coulat Sacramento Branch of the American Begonia Society, this event fills Shepard Center with beautiful plants, treasured for their foliage as well as their flowers.
Show hours are 10 a.m. to 4 p.m. Saturday, Sept. 18, and 10 a.m. to 3 pm Sunday, Sept. 19. Admission and parking are free. According to Sacramento's pandemic protocols, patrons must wear face masks.
"We will have over 1,000 begonias for sale, including 'painted begonias' (rex type), Angel Wings (cane-type with leaves in the shape of angel wings), rhizomatous-type, and begonias which require terrariums," say the organizers. "On display in our show will be locally grown begonias and members will be on-hand to answer your questions about growing here in Sacramento."
Enter your own begonias, too. Entries are due Friday. Contact the club at
Sacramento@begonias.org
for a "Show Schedule and Registration Form."
Shepard Center is located at 3330 McKinley Blvd., Sacramento, in McKinley Park.
Details and directions:
www.sgaac.org
.