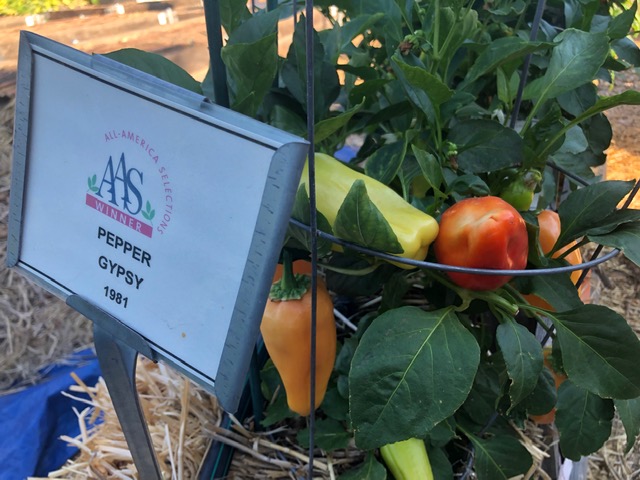 Peppers such as these Gypsy peppers at the Fair Oaks Horticulture Center are still producing, but many summer vegetables are done. Any of those can be removed and composted. (Photo: Kathy Morrison)
Our last days of summer may see something we haven't seen much of in six months – rain.
Scattered showers are in Sacramento's Sunday forecast.
If the National Weather Service can measure even a trace at its Downtown Sacramento station, it will break a rainless streak going back to March 19. (Executive Airport got 0.05 inches from that thunderstorm that hit late Sept. 9, but any measurable rain passed over downtown.)
Sunday's anticipated moisture won't be much. According to the weather service, it will be followed by gusty winds and dry conditions – adding to already high fire danger.
This last summer weekend may feel like fall, but September will still have some more heat. After two days in the mid 70s this weekend, the predicted high for Monday is 89 degrees. The rest of the week is expected to see highs in the low 90s.
Say goodbye to your summer garden; fall officially starts Wednesday.
* Compost annuals and vegetable crops that have finished producing.
* Cultivate and add compost to the soil to replenish its nutrients for fall and winter vegetables and flowers.
* Fertilize deciduous fruit trees.
* Plant onions, lettuce, peas, radishes, turnips, beets, carrots, bok choy, spinach and potatoes directly into the vegetable beds.
* Transplant cabbage, broccoli, kale, Brussels sprouts, cauliflower, lettuce and cool-season greens.
* Sow seeds of California poppies, clarkia and African daisies.
* Transplant cool-weather annuals such as pansies, violas, fairy primroses, calendulas, stocks and snapdragons.
* Divide and replant bulbs, rhizomes and perennials.
* Dig up and divide daylilies as they complete their bloom cycle.
* Divide and transplant peonies that have become overcrowded. Replant with "eyes" about an inch below the soil surface.
* Late September is ideal for sowing a new lawn or re-seeding bare spots.