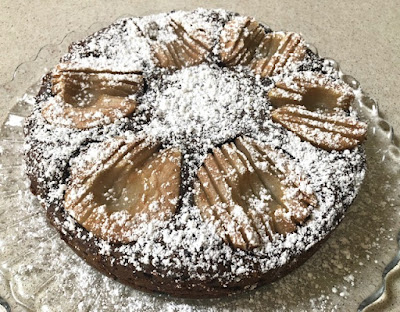 Whether it's served for breakfast, brunch or dessert,
this cake packs a lot of flavor, but it's not too sweet.
(Photos: Kathy Morrison)
A big bag of Comice pears from a friend inspired quite a round of baking. (Thanks, Pat!) After trying a yummy pear crisp baked in a slow cooker, I started thinking about combining chocolate and pears in a cake.
I found a number of recipes for tarts, but few for cakes until -- ah! -- hitting on one published on an Australian food blog called Not Quite Nigella. The Italian pear and chocolate breakfast cake recipe, provided by a reader who had discovered it in Sicily, had definite possibilities. But first I had to translate it from metric measurements so I could share it with anyone who didn't own a kitchen scale. That's why the measurements below are a bit odd.
(I recommend getting a scale if you bake often or cook with a lot of homegrown produce. I use mine all the time, weighing tomatoes for recipes, especially.)
Ideally this cake uses cake flour, but I didn't have any, so made my own using all-purpose flour and cornstarch. And at the last minute I tossed in some cocoa so the chocolate chips wouldn't be the only chocolate. But in doing all this I forgot to add the baking powder, remembering only after I'd slid the cake in the oven.
Would those five pears and all that chocolate go to waste? Nope, the cake was more than edible: It was a denser version of what would have been -- more like a torte. It was lovely chilled and topped with whipped cream. Not breakfast, exactly, but there is a lot of fruit! Oil and eggs provide the fats, rather than butter and eggs -- very Italian. An espresso on the side would be perfect.
I do recommend using the baking powder, but if you happen to forget, it's still a lovely treat.
Italian pear and chocolate breakfast cake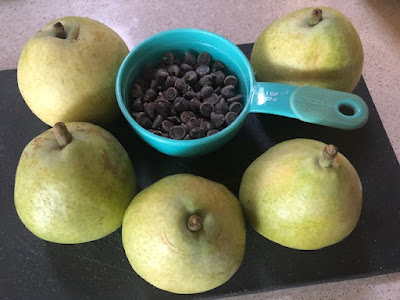 Pears and chocolate really should get together more often.
Adapted from a recipe on Not Quite Nigella
Serves 10-12
Ingredients:
5 pears -- Comice, Bosc or d'Anjou preferred, Bartletts being too juicy
1/4 cup plus 3 tablespoons flavorless oil, such as canola, plus more for greasing the pan
3/4 cup granulated or superfine sugar
2 eggs, room temperature
1 teaspoon vanilla extract
1-1/2 cups plus 2 tablespoons all-purpose flour (see note below if using cake flour)
4 tablespoons cornstarch, if using all-purpose flour
2 teaspoons baking powder
3 tablespoons baking cocoa (optional)
1/2 teaspoon salt
1/3 cup milk
3/4 cup chocolate chips, or more to taste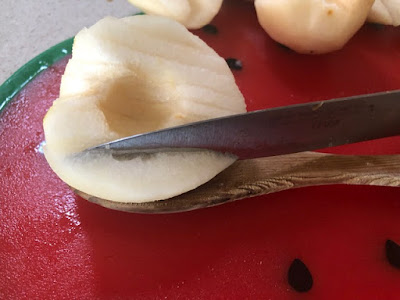 Setting the pears in a wooden spoon helps prevent
cutting through them.
Powdered sugar, for topping
Instructions:
Peel, halve and core the pears. Using a melon baller to remove the seeds in the core gives the pears a nice appearance. Chop the two juiciest pears into small pieces; set the other three pears (six halves) aside for the top of the cake.
Preheat the oven to 350 degrees. Brush the bottom and sides of a 9-inch springform pan with a thin coating of oil.
Using an electric mixer, beat together the oil, sugar, eggs and vanilla in a large bowl on high until the volume is at least doubled, about 5 minutes.
In a small bowl, stir together the flour, cornstarch, baking powder, cocoa (if using) and salt until thoroughly combined. Using a sifter or wire strainer, sift half the dry mixture into the egg mixture, then add half the milk and fold together. Sift in the remaining dry mixture and milk, then fold in the chopped pears and the chocolate chips. Pour the batter into the prepared pan and smooth the top.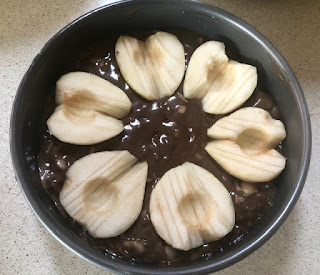 All ready to go into the oven now.
Take the six remaining pear halves and, using a sharp knife, gently score the pears into thin fanlike slices without cutting all the way through. (If you've ever made Hasselback potatoes, it's the same idea. Setting the pear half on the bowl of a wooden spoon is useful to prevent cutting all the way through.)
Alternatively, set the pear halves on the cut side and score the rounded side, or even do three one way and three the other, whatever appeals to you
Place the scored pear halves on top of the cake batter, arranged with the stem end pointing into the middle. Gently push the pears just a little into the batter.
Bake cake for 1 hour or up to 1 hour 20 minutes, until skewer or toothpick inserted in the center comes out clean (melty chocolate chips don't count).
Remove from the oven and allow to cool on a rack for 15 minutes before removing the ring of the springform pan. (Run a knife along the inside before loosening the ring.)
Cool thoroughly; sprinkle cake with powdered sugar before serving. Whipped cream or vanilla gelato is an excellent accompaniment if the cake is served for dessert.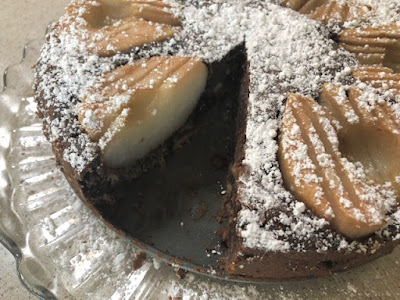 The pears really star in this cake when it's sliced.
Note for using cake flour:
The original calls for 250g or 8.83 ounces of cake flour. I didn't want to hazard a guess on translating that to cups -- the flours have different densities -- but wanted to include the original just in case. And don't add the cornstarch, of course.