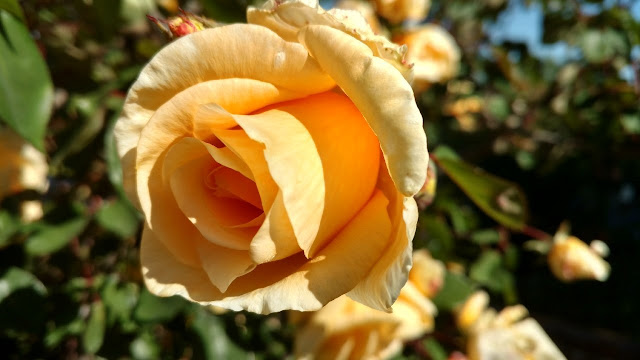 Lady Hillingdon is a tea rose introduced in 1910. Learn all about roses from the Placer County master gardeners this weekend. (Photo: Debbie Arrington)
The fall calendar fills up quickly, with so many potential events. At least with Zoom workshops, gardeners can get expert information without having to worry about traffic and parking.
Here are two excellent free online workshops by UCCE master gardeners this Saturday:
-- Successful Gardening with Native Plants, 9 a.m. to 10:30 a.m. Saturday on Zoom. The El Dorado County master gardeners present this class taught by Alice Cantelow.
Here's the description: "Do you love  wildlife, pollinators, and birds, and would like to enjoy their activities in your landscape?  Are you ready to lower your water bill, and spend less on fertilizers and pesticides as well?  Alice Cantelow will teach you how to choose and add colorful, easy care native plants to your garden."
Register here , and a Zoom link will be sent to you.
The El Dorado master gardeners have a busy calendar of fall events, including information meetings on master gardener training for El Dorado and Amador county residents: http://mgeldorado.ucanr.edu/?calendar=yes&g=39875
-- Roses Zoom Workshop, 10:30 a.m to 11:30 a.m. Saturday. This event is presented by the Placer County master gardeners.
Here's what they say: "Hardy beautiful roses grow well in many places throughout the country. In this workshop you will learn about some of the origins of roses in America. You'll become acquainted with the categories of roses for your landscape and learn that roses don't have to be labor-intensive plants. You'll learn to recognize some common pests and diseases associated with roses, and how you can safely manage them during different seasons of the year."
No pre-registration is necessary. The link for this workshop is here: https://us02web.zoom.us/j/87189294280? and the passcode is: garden.
The full list of Placer County master gardener fall events can be found here: http://pcmg.ucanr.org/
-- Kathy Morrison