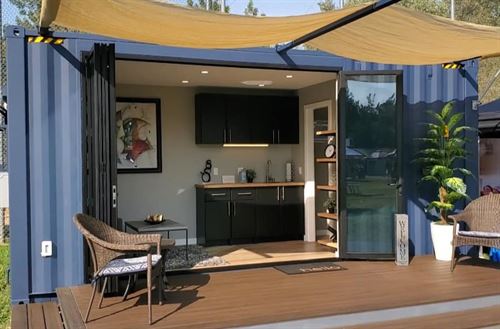 Exhibits at the Auburn Fall Home Show include this instant extra room in a
container unit. (Photo courtesy Auburn Home Shows)
"It's a Go!" That's the message on the Auburn Home Show home page, adding, "meeting safety requirements and guidelines."
So, bring a face mask and remember to social distance, but otherwise enjoy products and ideas from hundreds of vendors at the annual Auburn Fall Home Show, underway today through Sunday, Sept. 24-26, at the Gold Country Fairgrounds.
"Safety requirements are in place that meet safety guidelines," say the show's organizers on the website. "We are fortunate to have a facility that can more easily accommodate the guidelines with plenty of outdoor displays and multiple buildings that allow for ample socially distancing. With the experience of producing two events under COVID restrictions, management is experienced and prepared to welcome guests to the Home Show."
It may be only the first week of fall, but this home show will focus on the holidays: Halloween, Thanksgiving and Christmas. Special exhibits and demonstrations will be keyed to each holiday including a "Spooktacular" walk-through Halloween display, Thanksgiving-themed cooking demonstrations on Saturday and Christmas cooking ideas on Sunday.
Also popular are the Critter Corner (sorry, pets have to stay home) and a Farm-to-Fork Building, showcasing local products.
See the many different ways a container unit can become extra (and creative) living and work space such as a she-shed or granny flat. Get inspired by the show's demonstration landscapes. Bring your gardening questions to the Placer County master gardeners' booth.
Show hours are: 11 a.m. to 6 p.m. Friday, 10 a.m. to 6 p.m. Saturday and 10 a.m. to 5 p.m. Sunday.
Admission: $8; youth age 13 and under admitted free with an adult. Parking: $6.
Gold Country Fairgrounds' parking lot entrance is located at 209 Fairgate Road, Auburn.
Details and discount coupons:
https://www.auburnhomeshows.com/