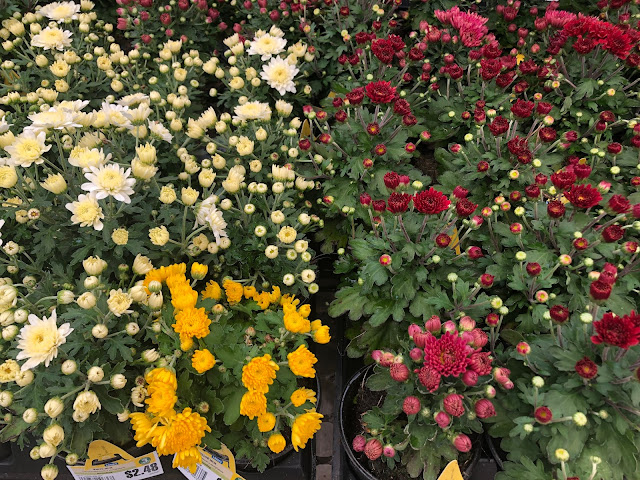 It's the season for mums! They're an easy way to add fall color to your garden. (Photo: Kathy Morrison)
Say hello to the 80s! After a last blast of heat on Saturday, Sacramento is expected to see 80s (or lower) the rest of the week.
According to the National Weather Service, our first full week of fall will see a distinct cooling trend, starting Sunday and lasting at least a week. The forecast high for Tuesday is only 76 degrees – 20 degrees cooler than Friday. That's followed by several days in the low 80s with relatively warm overnight lows in the 50s.
There's even a slight chance of rain Monday night. If no measurable precipitation is recorded by midnight Wednesday, Downtown Sacramento will break its record for longest rainless spell of 194 days, set back in 1880.
Meanwhile, this weather reminds us: Fall is for planting. Make the most of this opportunity.
* Plant onions, lettuce, peas, radishes, turnips, beets, carrots, bok choy, spinach and potatoes directly into the vegetable beds.
* Transplant cabbage, broccoli, kale, Brussels sprouts and cauliflower as well as lettuce seedlings.
* Sow seeds of California poppies, clarkia and African daisies.
* Transplant cool-weather annuals such as pansies, violas, fairy primroses, calendulas, stocks and snapdragons. Freshen up containers with some new chrysanthemums.
* Late September is ideal for sowing a new lawn or re-seeding bare spots. Consider low-mow or no-mow turf.
* Divide and replant bulbs, rhizomes and perennials.
* Dig up and divide daylilies as they complete their bloom cycle.
* Divide and transplant peonies that have become overcrowded. Replant with "eyes" about an inch below the soil surface.