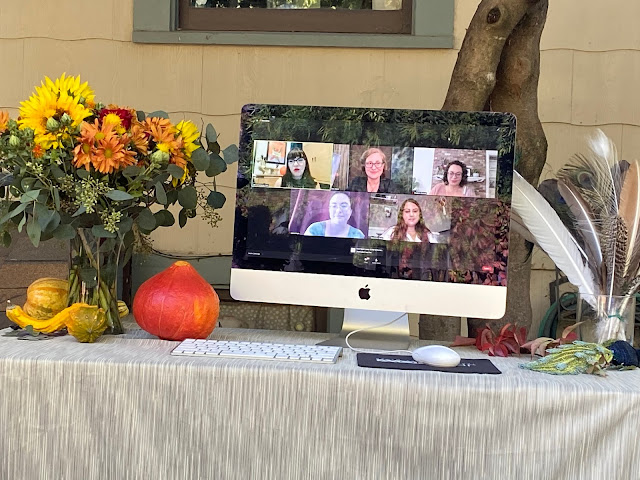 The Village Feast will feature an online auction Oct. 9, hosted by Sacramento members of  Les Dames d'Escoffier. (Photo courtesy Les Dames Sacramento)
Here's your chance to feast like a Dame – and support women who work in food and agriculture.
Registration is now open for the Village Feast, a farm-to-fork celebration of Northern California's bounty and the contributions of women to food and drink. This major fundraiser is hosted by the Sacramento chapter of Les Dames d'Escoffier International – the top organization devoted to women in the food and beverage industry. (Full disclosure: I'm a member.) Proceeds go towards scholarships and training to support women who want to pursue careers in food, wine, agriculture and related fields.
In past years, the Village Feast included an actual sit-down communal dinner for 350 people, held at Davis Central Park. But due to Covid-19 restrictions, the Feast's format had to pivot to something different.
For the second consecutive year, the Village Feast will be "virtual," held primarily online. Festivities will be live from 1 to 2:30 p.m. Saturday, Oct. 9. No tickets are sold; all proceeds come from the auction or direct donations.
Registration is free to participate in Virtual Village Feast fun including the amazing online auction. In addition, participants may order pre-cooked meals or farm-fresh boxes inspired by the Village Feast spirit.
To register, go to
https://thevillagefeast2021.eventbrite.com
on Eventbrite. Registration gives you access to information on ordering your Village Feast-inspired meals.
The auction is now live online with more items being added all week. Follow this link,
https://www.auctria.com/auction/VILLAGEFEAST
, to view the Dames' collection filled with food and drink, fabulous experiences, get-aways, and arts and crafts.
Registering to bid is easy; just click the link provided on the auction's home page. The auction will continue through Oct. 9, closing after the Feast's live session.
Among the auction items:
* Yolo County Tours, Tasting & Lunch, donated by Dames Amina Harris and Mary Kimball.
* Wine & Cheese Pairing for Eight donated by Dame Roxanne O'Brien and Sommelier Keith Fergel (of Taylor's Kitchen).
* The Complete Picnic for Six (including a custom-made picnic blanket for the winner), donated by Chef Jonathan Moon.
* Cheese & Bubbles Session for Four, donated by Dame Sara Arbabian.
* Nugget Market Gift Basket.
* Gift baskets packed with homemade jams, jellies, chutney, preserves and other goodies from the Dames' own kitchens.
Questions? Email co-chairperson Rachael Levine at
rachaellevine@hotmail.com
or call 530-304-6467.
More about Sacramento's Les Dames:
https://lesdamessacramento.com/
.