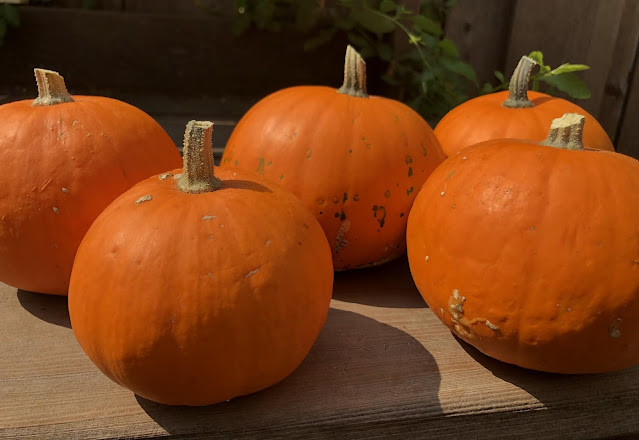 Harvest pumpkins and winter squash when you can no longer made a mark in the skin with your fingernail. These cute Little October variety of pumpkins are about the size of a fist and do well grown on a trellis. (Photo: Kathy Morrison)
Is rain finally on its way? According to the National Weather Service, Sacramento has a "slight chance of showers" on Thursday. If any measurable precipitation materializes, it would end the longest dry spell in Downtown Sacramento history – 197 days (as of Saturday) and counting.
This drought has been one for the record books, too. California's water year (Oct. 1-Sept. 30) officially ended Thursday. For the water year just completed, Sacramento totaled 7.87 inches – about 10 inches below average.
That followed a very dry 2019-20 water year: 10.95 inches. By comparison, Sacramento's historic water year average: 17.8 inches.
Friday started a new water year with (hopeful) expectations of wetter months ahead. October averages 0.95 inches of rain.
October starts warm with high temperatures forecast in the low 90s through Monday. But then, it will start to feel like fall; Thursday's predicted high is only 71 – 20 degrees lower. Next weekend may top out in the high 60s. Overnight lows will be colder, too, but still staying in the 50s.
With this dip in temperatures, expect to see a sudden change in your garden, too, as it gets its cue to prepare for winter.
* October is the best month to plant trees, shrubs and perennials. Add a little well-aged compost and bone meal to the planting hole, but hold off on other fertilizers until spring. Keep the transplants well-watered (but not wet) for the first month as they become settled.
* Dig up corms and tubers of gladioli, dahlias and tuberous begonias after the foliage dies. Clean and store in a cool, dry place.
* Treat azaleas, gardenias and camellias with chelated iron if leaves are yellowing between the veins.
* Clean up the summer vegetable garden and compost disease-free foliage.
* Harvest pumpkins and winter squash.
* Now is the time to plant seeds for many flowers directly into the garden, including cornflower, nasturtium, nigella, poppy, portulaca, sweet pea and stock.
* Plant seeds for radishes, bok choy, mustard, spinach and peas.
* Plant garlic and onions.
* Set out cool-weather bedding plants, including calendula, pansy, snapdragon, primrose and viola.
* Transplant broccoli, cabbage, lettuce, Brussels sprouts and other cool-season favorites.