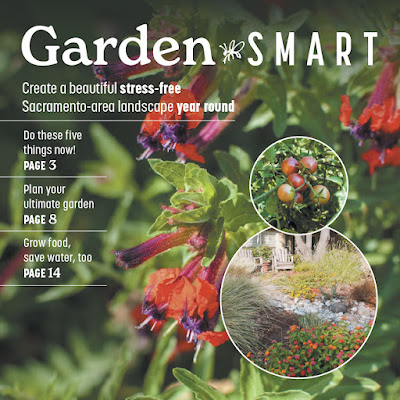 'Garden Smart' is available at nurseries and several
other locations in the region.
Free magazine details many ways to create a water-wise landscape
Thinking about a water-wise landscape but don't know where to start? Pick up a copy of "Garden Smart," now available in Sacramento-area nurseries.
Presented by the Regional Water Authority, this free 16-page magazine outlines how to create a beautiful and stress-free landscape suited to Sacramento's climate – now and for decades to come.
Learn how to make "lawn lasagna" and replace thirsty turf with colorful alternatives. See an inspirational garden makeover that turned a plain front yard into a butterfly and bee haven.
Find out how farmers save water and how those lessons can be applied to your own garden – including the least-thirsty crops to grow. Get tips on how to save your trees as well as what to plant for the future.
In addition, there are dozens of plant suggestions, tips and links to rebates and resources.
Written and edited by Debbie Arrington of Sac Digs Gardening, "Garden Smart" was produced in Sacramento by N&R Publications.
Participating nurseries and garden-related companies include all Green Acres Nursery and Supply locations plus Anderson's Sierra Pipe Co., Big Oak Nursery, Bushnell Gardens, Elderberry Farms, El Dorado Nursery, Fair Oaks Boulevard Nursery, Goude's Wholesale Nursery, High-Hand Nursery, Normac Irrigation, SiteOne Landscape Supply, Talini's Nursery, The Plant Foundry, The Secret Garden and Thompson Building Materials and Nursery.
Read more here: https://issuu.com/news_review/docs/garden_rgb?e=2059002/87339442
Details and rebates: BeWaterSmart.info .