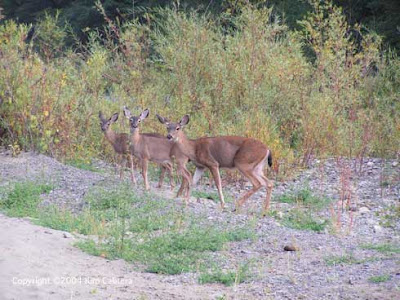 Hungry deer are a constant issue for foothill

gardeners. (Photo courtesy UC IPM)




Nevada County master gardeners offer free virtual workshop
It's a constant question from foothill gardeners: What will deer NOT eat?
Find out during a free virtual workshop, "Living with Deer as a Foothill Gardener."
Hosted by the UC Cooperative Extension Master Gardeners of Nevada County, this Zoom session is open to the public regardless of where they live. Set for 9 a.m. Saturday, Oct. 16, the workshop has no pre-registration; just click on the link and join in.
Deer rank among the most frustrating issues for foothill gardeners – and some Valley gardeners, too. These large mammals seem to always be hungry, and our gardens look so appetizing.
"Although there are no guarantees when gardening in deer country, there are ways to live with these browsers and have a lovely landscape and garden veggies as well," say the master gardeners. "To learn more about managing deer in foothill gardens, join us to learn facts about the deer in our area and ways you can defend your gardens and landscape."
Deer not only have big appetites; they can be just plain big. Mule deer, the most common species in the Sierra foothills and California's only native deer species, can reach 6 feet tall and weigh 200 pounds. And they can jump!
Right now, deer are fattening up for the winter on acorns and other nutrient-rich foods. But they don't care for lavender, rosemary or other pungent herbs. Think like a deer and, yes, you can redirect them away from your garden to native oaks and other more appropriate food sources.
More details and Zoom links (including passcode): https://ncmg.ucanr.org/ .