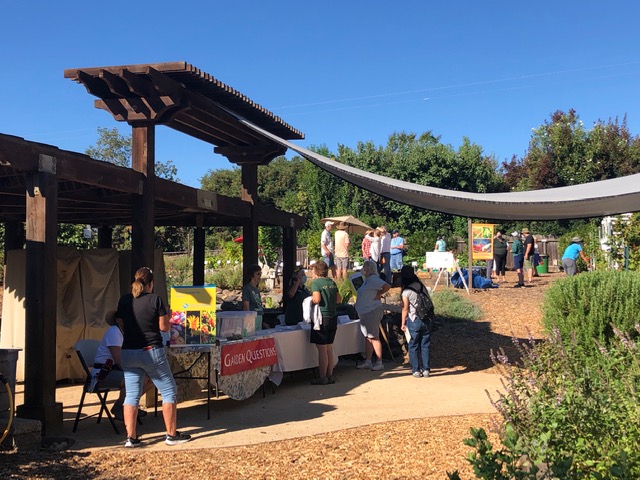 The Fair Oaks Horticulture Center should be just as pleasant Saturday as it was
at the previous Open Garden in September, though likely cooler. (Photo:
Kathy Morrison)
The weather is ideal, the light is enchanting, and the season is perfect for planting. What better time to visit the Fair Oaks Horticulture Center?
The Sacramento County master gardeners will hold their final Open Garden of the year Saturday from 9 a.m. to noon, and they're ready to tackle any and all gardening questions. While you're there, pick up the 2022 Gardening Guide and Calendar. It continues to be a garden bargain at just $10.
FOHC is at 11549 Fair Oaks Blvd.,  next to Fair Oaks Park. No specific demonstrations or talks are planned Saturday, but there will be teams of master gardeners stationed in each area of the FOHC. There's a Gardening Questions table for more general questions, too.
Here are some ideas for visitors:
-- Composting. Learn how to make "garden gold." The project area has been moved to a new spot on the hill portion of the garden, but the information and enthusiasm are the same. Ask which bin is best for compost! There are definite opinions. And check out the worm bin, too.
-- Berries. These may be the trickiest plants to tend, after the grapevines.  Cane berries and blueberries are grown at the FOHC. Ask about winter pruning!
-- Vineyard. The grapes are just about done, so ask about pruning here, too. Explore the difference between cane-pruned grapes and spur-pruned ones.
-- Herbs. Most of the herb planting areas were redone after the new Chuck Ingels Memorial Gate was installed nearby. Treat yourself to a big whiff of the lemon verbena or the various scented geraniums, and ask about overwintering herbs.
-- Vegetables. Everyone's favorite stop, the vegetable garden should be plush with the cool-weather crops planted last month and new cover crops going in. Ask about the various cover crops, and also how to keep little green worms from devouring your brassicas.
-- Orchard. The new crops should be evident on the citrus trees. Learn how to tell when to pick the fruit; it makes a difference, especially with oranges. In the rest of the orchard, see which fruit is still on the trees, and ask how they keep the birds and squirrels from eating it all.
-- Water Efficient Landscape. This is the best place to pull out a notebook and make a list of pretty fall plants that are easy on water and a delight for humans and pollinators. All the plants are labeled; ask a friendly master gardener for additional information on planting.
If you can't attend Saturday or later think of a question later, the UCCE Sacramento County master gardeners' website https://sacmg.ucanr.edu/ is loaded with gardening information. For general information on the Open Garden, go to https://sacmg.ucanr.edu/?calitem=389781