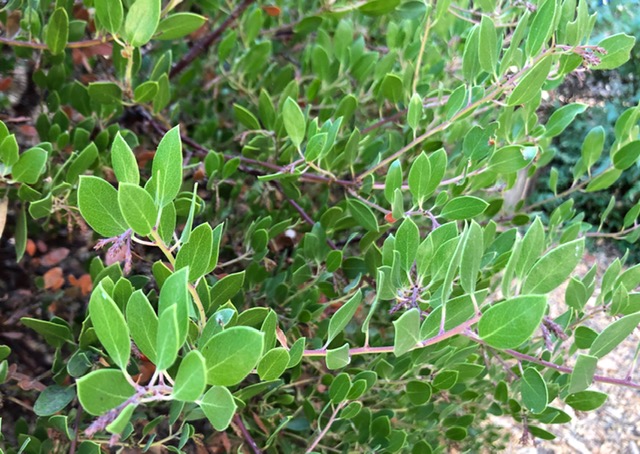 This Vine Hill manzanita ( Arctostaphylos densiflora ) 'Howard McMinn' is a popular low-water cultivar of a California native shrub. Learn about others as part of a free workshop Thursday. (Photo: Kathy Morrison)
Thinking about a water-wise makeover? Learn how simple steps can add up to big savings – and a more beautiful, easy-care garden – during a special workshop led by one of Sacramento's leading water-wise landscaping experts.
Join award-winning landscape designer Cheryl Buckwalter of Landscape Liaisons for "Conservation in the Garden," a free one-hour workshop and tour at noon Thursday, Oct. 21, at the Garden on Eden, 4900 Eden Court, Carmichael.
The Garden on Eden is the cleverly named low water-use demonstration garden of the Sacramento Suburban Water District (SSWD), which is also hosting this event.
Participants will learn about: different types of water-efficient landscape designs; beautiful water-wise native plants; sprinkler system upgrades; proper tree care; and more.
Buckwalter also will answer questions about planting and maintaining a water-wise landscape, plant selection, lawn conversion and other topics. Fall is the best time to start such water-wise makeovers.
Serving as the site of the tour and workshop, the Garden on Eden is a makeover success story. The flower-filled and colorful water-wise landscape replaced a former lawn in 2018.
"This landscape is considered to have multiple benefits because it was designed to provide year-round color and beauty, minimize the work needed to maintain it, and minimize the water needed to irrigate it," according to the water district. "The previous landscape of cool-season turf grass and inefficient sprinklers had a water requirement of 125,829 gallons per year. This landscape, with its low and very-low-water plants and efficient drip system, will only need 33,113 gallons per year, once established."
See for yourself and start saving, too.
Details: 916-972-7171 or
www.sswd.org
.