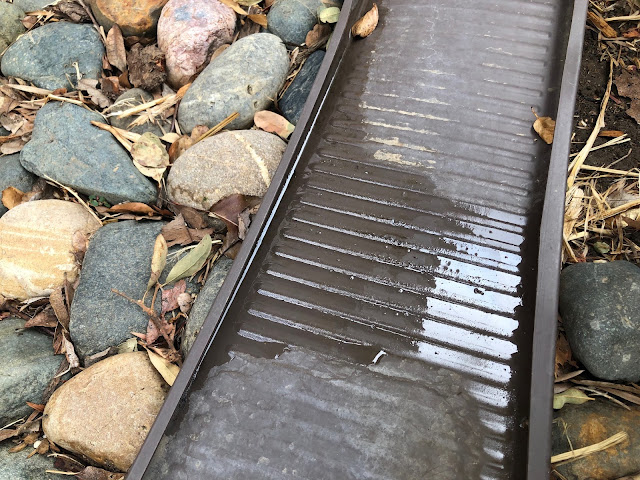 This downspout splash block got just a bit of water this morning but it's likely
to be flowing during the rainstorms starting Thursday. (Photo: Kathy Morrison)
Turn off the sprinklers! Our record dry spell is officially over – and the first big storm of our new water year is on its way.
Wednesday's drizzly conditions are just a warm-up. According to the National Weather Service, Sacramento can expect a wet one-two punch, starting Thursday.
"Periods of heavy to moderate rain are possible late Thursday into Friday with our next storm system," tweeted the NWS Sacramento office on Wednesday morning. "These (showers) could bring potential ash flows and debris flows to recent burn scars. They could also bring morning commute issues. The heaviest rain is expected north of I-80."
Sacramento Valley is expected to get 0.5 to 1.5 inches in this first wave, says the weather service. Foothill areas could get 2 to 4 inches.
Expect "ponding of water on roadways and some minor flooding of poor drainage areas," the weather service added.
Saturday may be showery, but mostly dry. Then comes another, colder storm on Sunday with rain expected through Tuesday. That storm is expected to drop at least an inch on Sacramento and snow in the mountain passes.
That adds up to 1.5 to 2.5 inches for Sacramento. If these storms deliver as expected, Sacramento's October rain total will easily top its historical average of 0.95 inches.
These storms follow the longest rainless period in Downtown Sacramento history – 212 days. Before Sunday night's light rainfall, the weather service's Downtown Sacramento monitors had not recorded any measurable precipitation since March 19.
Details: https://www.weather.gov/sto/.