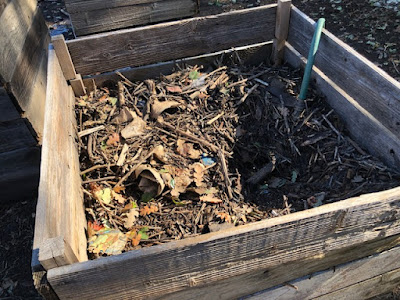 Leaves make great compost! They also work as
mulch for the fall and winter garden. Learn the
details in a master gardener Zoom workshop.
(Photo: Kathy Morrison)
What do you do with all those fall leaves? Make compost and mulch!
Learn how during a free Zoom workshop, offered by the UC Cooperative Master Gardeners of Placer County.
Set for 10:30 a.m. Saturday, Oct. 30, "Composting and Mulching" will tackle how to do both – and why they're important to your garden and soil health.
"Learn the basics of backyard composting and how it can improve your soil," say the master gardeners. "You will learn how to get started and keep your compost pile healthy. We will also discuss the benefits of using mulch to help keep your soil healthy and happy."
No advance registration is required for this one-hour workshop, which was originally presented in November 2020.
Here's the Zoom link: https://us02web.zoom.us/j/84410333085?
Passcode: garden
Details and links to past Placer County Master Gardener workshops: https://pcmg.ucanr.org/ .