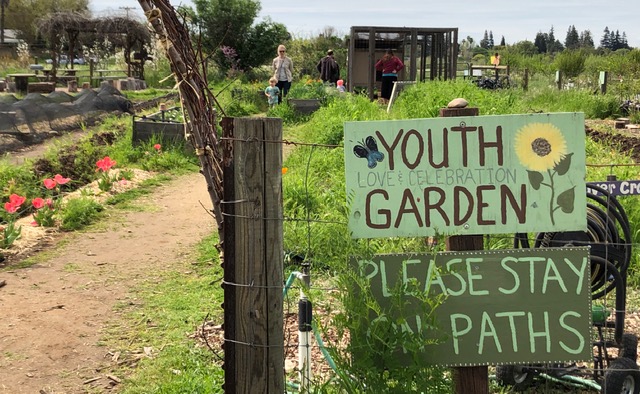 Tiny princesses, superheroes and ghosts (not to mention other costumed kids) will be welcome to explore Soil Born Farms' Youth Garden this Saturday. (2019 photo by Kathy Morrison)
With no rain in the forecast until at least Monday, this weekend offers a great chance to get outdoors and enjoy harvest and Halloween-related activities.
Among these is Halloween at the Farm, specifically Soil Born Farms from 8 a.m. to 1 p.m. on Saturday, Oct. 30.
Visitors to Soil Born Farms' American River Ranch in Rancho Cordova can explore the grounds while listening to music by the Millington Strings Quartet.
The Youth Garden will be a fun place for children to learn and play, and those in costume can trick or treat at the Concierge tent. Soil Born notes that walk-in registration is on a first-come, first-served basis at the Youth Garden gate, with a $5 suggested donation per family to help cover the costs of materials. Any proceeds will benefit the Youth Education program.
Soil Born Farms also is a great resource for gardeners. Anyone who has or wants to plant fruit trees might want to get in on the Fruit Tree Care Talks, scheduled at 9 a.m. and 11 a.m. Saturday, as well as 9 and 11 a.m. on Nov. 20. Cost is $5, and registration is available on the website here .
The America River Ranch is at 2140 Chase Drive, Rancho Cordova. The Soil Born Farms home page is https://soilborn.org/
-- Kathy Morrison