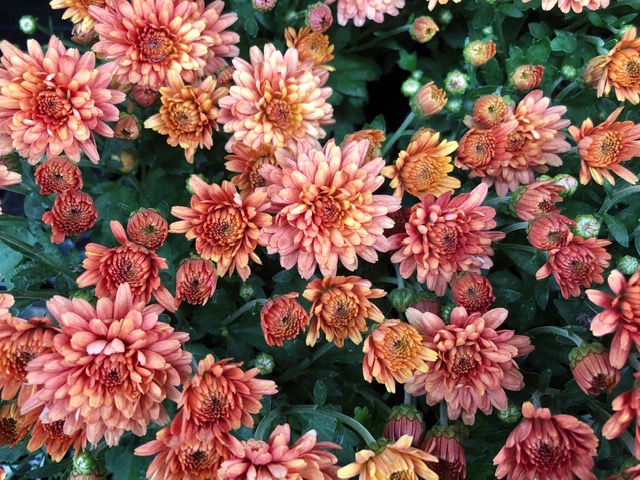 Mums add color to patio pots or garden beds this time of year. (Photo: Kathy Morrison)

Keep your umbrella handy; that's a phrase we haven't used in a long time!

November is expected to get off to a somewhat soggy start. According to the National Weather Service, two fast-moving storms will visit the Sacramento area this week. Showers are likely Monday with a 65% chance predicted for raindrops by noon. More rain is expected early Thursday morning.

Neither storm is expected to produce much precipitation – about one-quarter inch total between them. But after two years of drought, every drop counts.

In between showers, expect daytime temperatures in the high 60s, but not much sun. Cloud cover will keep overnight lows in the 50s. That means conditions are ideal for planting – damp soil and warm nights.
* Mums can add instant color. Plant in pots for patio or entry display. They also make excellent cut flowers.

* Compost your Halloween pumpkin.
* Now is the best time to plant most trees and shrubs. This gives them plenty of time for root development before spring growth. They also benefit from fall and winter rains.

* Set out cool-weather annuals such as pansies and snapdragons.

* Lettuce, cabbage and broccoli also can be planted now.

* Plant garlic and onions.

* Keep planting bulbs to spread out your spring bloom. Some possible suggestions: daffodils, crocuses, hyacinths, tulips, anemones and scillas.

* This is also a good time to seed wildflowers and California natives.

* Plant such spring bloomers as sweet pea, sweet alyssum and bachelor buttons.

* Rake and compost leaves, but dispose of any diseased plant material. For example, if peach and nectarine trees showed signs of leaf curl this year, clean up under trees and dispose of those leaves instead of composting.

* Give your azaleas, gardenias and camellias a boost with chelated iron.

* Prune non-flowering trees and shrubs while dormant.