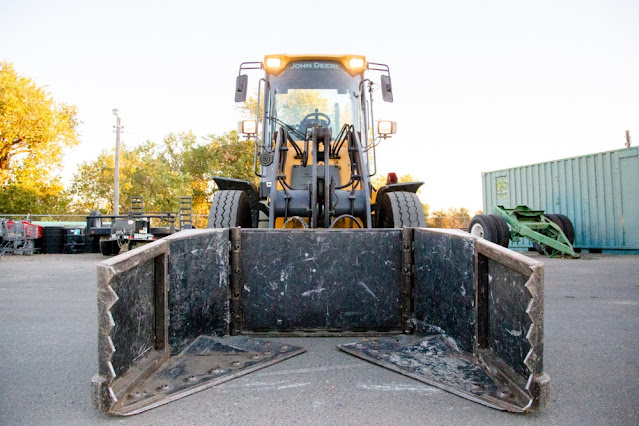 It's time for The Claw to make its appearance on Sacramento streets. (Photo
courtesy City of Sacramento.)
What metallic monster returns to Sacramento the day AFTER Halloween? The Claw, of course!
Nov. 1 is the official start of Sacramento Leaf Season and curbside pick-up of green waste. And with that pick-up comes the specially equipped mechanical leaf picker-upper affectionately nicknamed The Claw.
Through Jan. 23, city crews will scour and scrape the streets for leaf piles. Between now and then, each home will get about seven visits from The Claw.
"In the early part of the season, time between collections may be shorter," says the city's leaf season website. "As leaf drop volume grows, and if wind and rainstorms occur, it can take crews longer to rotate through the entire city."
Without rain, it usually takes the crews 12 days to rotate around the city, picking up leaf piles. But a big storm can double that estimate. The wait time is usually longer in November and December when leaf fall is greatest.
"The schedule is updated daily based on volume of yard waste from the previous day, weather conditions and equipment availability," says the city. "Check the calendar frequently since collection dates change often. Crews work rain or shine, including holidays."
No days off for The Claw. Crews work sevens days a week including holidays.
Some reminders:
Leaf piles can be no bigger than 4 by 4 by 9 feet (and just one per household). Make sure there is space between the pile and the curb so water can flow down the gutter. Also, place the pile at least 6 feet away from cars, boats, basketball hoops or other obstructions. The Claw needs room to maneuver.
Don't put plastic bags in street piles (including bags full of leaves). And don't contaminate the leaf pile with trash or dog poop (a common problem).
Any branches in the pile should be trimmed to 3-foot pieces.
During leaf season, the City of Sacramento continues to pick up green waste containers. Fill those first before piling leaves in the street, advises the recycling and solid waste department. The containers will get picked up 13 times during Leaf Season – almost twice as much as visits from The Claw.
See when The Claw will visit you! For more information and the link to the calendar:
SacLeafSmart.org
.