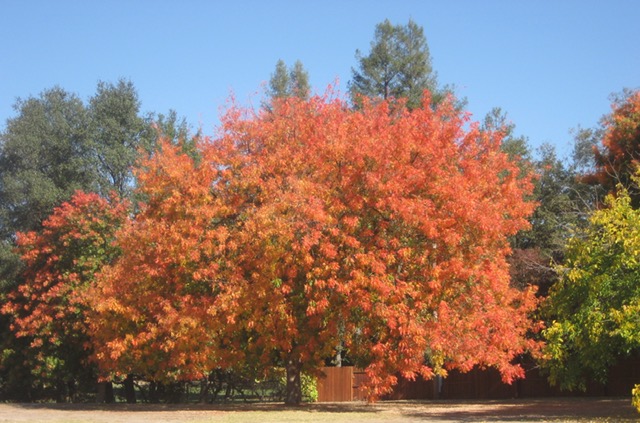 Trees in many colors -- one of the great things about the outdoors in fall. Help
plant trees or learn more about them through the Sacramento Tree
Foundation. (Photo: Kathy Morrison)
Trees are the stars of fall. Their changing colors demand notice, giving the landscape new looks every day as the green leaves turn to red or gold or orange, and then drop to the ground. A fluffy tree one day -- looking at you, gingko -- can be a sketch of itself the next.
Fall is the best time to plant trees, too. The soil still is warm, which allows roots to grow, but the air temperatures are moderate, so the young tree isn't under heat stress.
The Sacramento Tree Foundation is in the midst of its fall neighborhood tree planting and care events, and welcomes volunteers of any age, with or without tree-planting experience.
-- Sierra Woods, Folsom, 8:45 a.m. to noon, Saturday, Nov. 6. Trees will be planted at several residents' homes.
-- Fisherman's Lake, Natomas, 1-4 p.m. Sunday, Nov. 7. This is a mulch-spreading event for the native trees that were planted at the site a few years ago.
-- Jordan Family Park, Elk Grove, 9 a.m. to noon, Saturday, Nov. 13. This is a reforestation activity for the park, with native trees to be planted along a bike path. Mulching also will be done.
-- Old North Sacramento, 8:45 a.m. to 1 p.m., Saturday, Dec. 11. This event will add street trees to the neighborhood.
If you'd prefer to look and learn about some of Sacramento's trees, and have a bike available, this Sunday the SacTree folks are leading a tour of the Hollywood Park neighborhood's trees starting at 1 p.m. It will conclude at 5 p.m. at Two Rivers Cider.
And SacTree on Nov. 20 plans an acorn harvesting day from 9 a.m. to noon. Location is still TBA.
Register for all SacTree activities at https://www.sactree.com/events .
Meanwhile, here are some things to remember when planting trees:
-- Don't plant a tree too deep. The "root flare" should be at or slightly above the soil line to keep the tree from suffocating. The planting hole should be no deeper than the actual rootball, but it should be wide.
-- Remove the nursery stake. It's there only to protect the tree during transit -- it's not meant to be left on while the tree grows, and actually can limit its growth.
-- If stakes are necessary to keep the tree upright, there should be a pair of them, each about 18 inches away from the trunk, attached with loops that let the tree sway. That's how it gets stronger! Then remove the stakes after a year or two, depending on its growth.
These and other tips for tree-planting can be found at sactree.com/howtoplant and, for fruit trees specifically, in this UC Agriculture and Natural Resources publication, https://anrcatalog.ucanr.edu/pdf/8048.pdf .