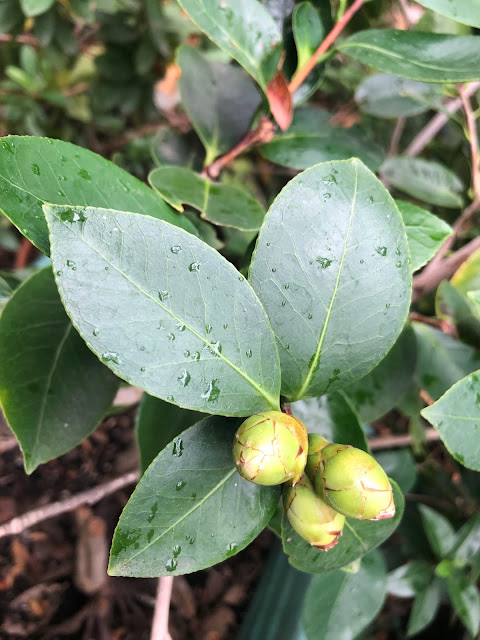 Camellias and azaleas can be fertilized now.
(Photo: Kathy Morrison)
November started out cool and damp – and will stay that way at least another week.
According to the National Weather Service, Sacramento can expect more showers Tuesday with up to another half inch of rain on the way. The rest of the week, cloud cover will keep daytime temperatures in the low to mid 60s. That same blanket of clouds will keep overnight lows relatively warm in the 50s.
After so much drought, it can be hard to remember: Is this normal? Average highs and lows for November are 64 and 43 degrees, respectively, says the weather service. November usually is one of Sacramento's rainiest months, averaging more than 2 inches of precipitation.
Make the most of that damp soil and warm nights: Plant something!
* Now is the best time to plant most trees and shrubs in the Sacramento area. This gives them plenty of time for root development before spring growth. They also benefit from fall and winter rains. (And they love that warm soil.)
* Set out cool-weather annuals such as pansies and snapdragons.
* Lettuce, cabbage and broccoli also can be planted now.
* Plant garlic and onions.
* Keep planting bulbs to spread out your spring bloom. Some possible suggestions: daffodils, crocuses, hyacinths, tulips, anemones and scillas.
* This is also a good time to seed wildflowers such as California poppies.
* Plant spring bloomers such as sweet pea, sweet alyssum and bachelor buttons.
* Rake and compost leaves, but dispose of any diseased plant material. For example, if peach and nectarine trees showed signs of leaf curl this year, clean up under trees and dispose of those leaves instead of composting.
* Prune non-flowering trees and shrubs while dormant.
* Fertilize camellias and azaleas.