The Shepard Center hosts arts groups as well as garden clubs, so it's fun to welcome back "Art to Wear & More," the show and sale of the Sacramento
Center for the Textile Arts, to the Shepard calendar. Plus: Holiday shopping! (Photos courtesy SCTA)


One of the season's most colorful (and shopable) shows and sales returns Saturday when the Sacramento Center for the Textile Arts presents its "2021 Art to Wear & More" show and sale.
Open from 10 a.m. to 4 p.m. Saturday, Nov. 13, the show and sale will fill the Shepard Garden and Arts Center with handmade (and locally created) textiles, crafts and more. Shoppers will find gifts galore as well as inspiration to create something themselves. Admission and parking are free.
Artists are excited to be back together in person after the pandemic forced cancellation of this annual event in 2020.
"This November is a wonderful time to give thanks for our families, friendships, health and creativity. We hope your creativity has helped get you through the pandemic, and that through SCTA you have made some new friends," the center posted this weekend. "We are also very thankful this year that we are able to come back together for meetings and — drumroll please —Art to Wear & More!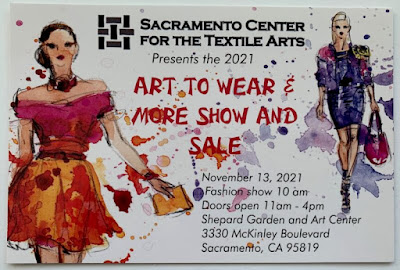 "Please join us to view and purchase unique handcrafted works by our very talented local artists," say the organizers. "Works will include jewelry, handbags, needle arts, clothing, book arts and gift items."
Kicking off the event will be an artist fashion show at 10 a.m. featuring "Art to Wear," handmade clothing and textiles.
Light refreshments will be available, and live music will be featured on the patio after the fashion show. Showcasing items from the fashion show as well as other textiles, the exhibitor hall opens at 11 a.m. That's also when the sales floor opens.
In addition to the sale, the center will hold a silent auction for some prized pieces.
"This is a great way to start – or maybe finish – your holiday shopping," say the artists.
Among the vendors will be:
* Irene Camerino: Upcycled vintage Japanese textiles
* Lori Christenson: Soaps, candles
* Petey Connolly: Kumihimo jewelry
* Carolyn Granados: Semi-precious jewelry
* Ila Lewis: Beaded jewelry
* Cris McLucas: Jewelry bags, clay art
* Joan McMurray: Hand-painted silk scarves, etc.
* Gloria Robertson: Cards, crochet/knit, etc.
* Juliette Smith: Jewelry using natural stones
* Molly Stuart: Upcycled heirloom clothing
* Denise Sutherland: Bead-weaving
* Sharon Tanovitz: Handmade books, book jewelry
* Soumia Varghese: Handmade jewelry
* Rebecca Warren: Small keepsakes made of clay
* Yvonne Warren: Bags and creative clothing
* Marilyn Wilson: Handknitting natural fibers
* Carol Wittich: Dyed pieces, handmade papers
Shepard Center is located at 3330 McKinley Blvd., Sacramento, in McKinley Park.
Details:
https://sactextilearts.org/
.