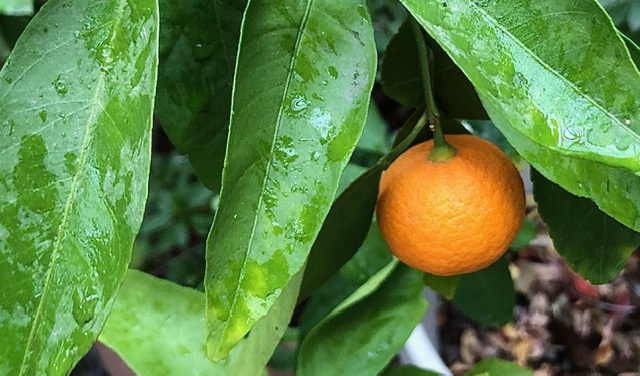 Satsuma mandarins herald the local citrus harvest. Learn about growing citrus from the El Dorado County master gardeners on Nov. 20. (Photo: Kathy Morrison)
The Mountain Mandarin Festival is coming, Nov. 19-21, which means the orange fruit of the moment is no longer pumpkins.
The Satsuma mandarins ripening now will be followed shortly by clementines, navel oranges, blood oranges, Cara Cara oranges, tangelos, and all the many other citrus fruits that will brighten the days until spring.
If you've ever wanted to grow your own citrus -- or already do but are perplexed by your plant's habits -- the El Dorado County master gardeners are here to help. They will offer a free online class, "Growing Citrus," 9 a.m. to 10:30 a.m. Saturday Nov. 20.
The class is appropriate for novice and experienced citrus gardeners. Master gardener Phyllis Lee will address citrus pests, handling cold weather, harvesting and other tips for success, applicable to other areas as well as El Dorado County.
Reserve a spot by signing up here .
The Mountain Mandarin Festival, which celebrates the crop and the growers of Placer County, will return to much of its usual level of activity this year, after dialing down last year in the face of coronavirus concerns. Hours are this year 11 a.m. to 5 p.m. Friday, Nov. 19; 9 a.m. to 5 p.m. Saturday Nov. 20, and 10 a.m. to 4 p.m. Sunday, Nov. 21.
Mandarin-based food of all kinds will be sold, in addition to bags and bags of fresh mandarins. (Some growers do sell online, by the way, if you are reluctant to buy in person.)
The festival also includes live music all three days, a Miss Mandarin pageant and, on Sunday, a Run for the Mandarins. Contests will not include cooking, but will include mandarin packing (Friday), mandarin juicing (Saturday) and mandarin peel-and-eat (Sunday).
The festival will be at the Gold Country Fairgrounds, 209 Fairgate Road in Auburn. Tickets are $10 general admission, $6 for seniors, and free for children under 12. Friday's admission is a special price of $5. A limited number of all-weekend passes are available for $19. Tickets can be purchased ahead of time online here ; an online fee is additional.
To keep everyone safe healthy, Placer County recommends that all festival attendees wear a mask.
The festival website, with many more details, is mandarinfestival.com .
-- Kathy Morrison