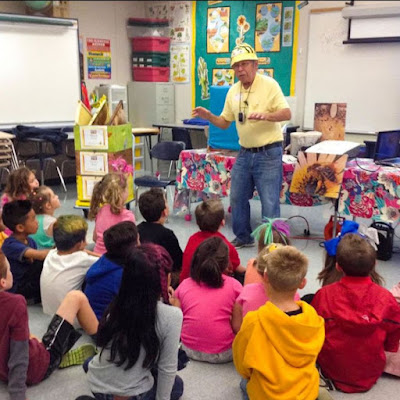 "Uncle Jer" gives a group of young listeners the buzz
on bees. He'll be at The Hive in Woodland this weekend.
(Photos courtesy of The Hive)
The Hive is ready for its close-up! The one-of-a-kind honey experiential center holds its official grand opening this weekend with lots of food, fun and flair.
Located at 1221 Harter Ave., Woodland (just off Interstate 5), The Hive will be open from 1 to 7 p.m. Saturday, Nov. 13, and 11 a.m. to 4 p.m. Sunday, Nov. 14. Admission and parking are free.
Music and yoga will be presented in The Hive's outdoor gardens and events area. Recently planted, the pollinator garden features several examples of low-water bee-friendly shrubs and perennials.
Inside the facility's warehouse, "Uncle Jer's Bee Show" will entertain bee-curious folks of all ages (including a peak inside a real buzzing hive). His performances are scheduled for 2:30 and 4:45 p.m. Saturday and 11:30 a.m. and 2:15 p.m. Sunday. In between, take a guided tour of the new building and learn how honey is processed.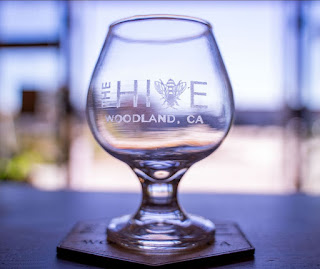 This commemorative glass will be offered free
with the purchase of mead-tasting drink tickets.
Honey and mead tastings will be featured. A commemorative mead tasting glass is offered free with the purchase of drink tickets. Mead (also known as honey wine) and other honey-based beverages will be available to sample.
Of course, there will be honey – lots and lots of honey in an array of amazing varietals. The Hive features more than 30 different honeys, as well as the expertise to appreciate their diversity. (Not all honey is sweet!) In addition to tastings, deep discounts will be offered to shoppers at the grand opening.
To go with that honey during this weekend celebration will be breads and other treats from Upper Crust Baking as well as coffee and tea from Pittador Brews.
The event will follow strict Covid protocols. Attendees are asked to show proof of vaccination or negative Covid test for entry.
For more details and directions:
https://zspecialtyfood.com/
.