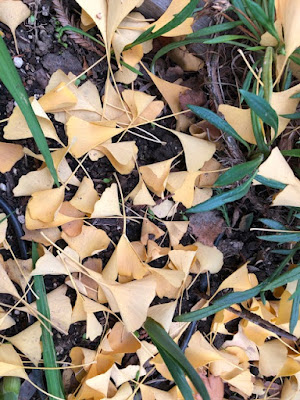 Leaves may be among the most
valuable free assets in the garden.
Beyond mulch or compost, they're
useful in making "lawn lasagna."
(Photo: Kathy Morrison)
Got leaves? Put that fallen foliage to good use; make "lawn lasagna"!
Actually, "lawn lasagna" is a form of sheet composting and an easy way to remove turf areas or weedy patches as well as revitalize soil. It uses an ingredient that we have in abundance right now – dead leaves – and is probably the easiest way to take out a lawn.
Lawn lasagna does not "cook" fast; it takes months to work its magic. But started now, the planting area will be ready by spring. There's no digging or sod cutting; you'll be able to plant right through the layers into the (much healthier) soil underneath. No tilling necessary!
Sheet composting feeds the soil while smothering the grass and weed seed. It also maintains soil moisture, which is critical for both microorganisms and future plants. One small space can be done at a time — or do the whole lawn.
If renovating a lawn area, remember to turn off the sprinklers before you begin – and mark those sprinkler locations (long sticks are good). Those sprinkler heads will become buried under the mulch layers and may be difficult to locate (and retrofit) later.
To make your own lawn lasagna, follow these steps for each area of turf to be removed:
1. Mow the lawn as short as possible. Leave clippings in place.
2. Water. Really give the area a deep soaking.
3. Cover with two or three layers of cardboard or several thicknesses of newsprint (no glossy paper). Overlap the edges 4 to 6 inches.
4. Water. Thoroughly wet the cardboard or newsprint.
5. Cover with 1-inch layer of steer or horse manure or compost. Water lightly.
6. Cover with a 2-inch layer of fall leaves, straw, shredded newsprint or other dried or "brown" material. Water lightly.
7. Cover with a 1-inch layer of "green" material, such as more manure, lawn clippings, garden trimmings or vegetable scraps. Cut green ingredients into 2-inch pieces or smaller. Water lightly.
8. Layer more browns and greens until the area is under at least 12 inches of material. Water lightly after each layer. Finish with a brown layer.
9. Wait. Water only occasionally as needed; compost needs moisture to break down.
10. Plant. In spring, the bed will be ready; no digging necessary. Plant directly through layers.
If sheet mulching an area other than lawn, follow these same steps. Instead of mowing, cut down any weeds and leave in place.