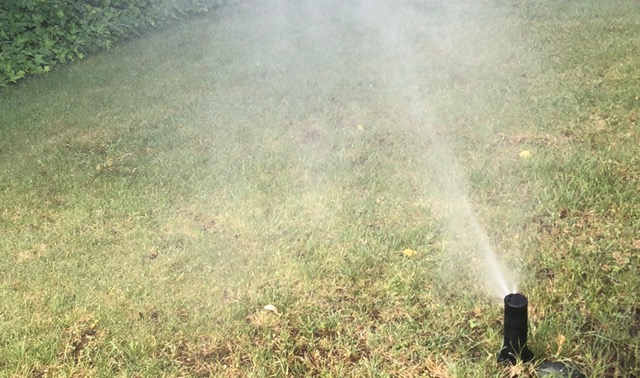 Sprinklers and other irrigation systems were turned off in October and water use dropped after the atmospheric river dumped nearly 7 inches of rain on Sacramento. (Photo: Kathy Morrison)
What a difference a downpour makes! October's historic "atmospheric river" made a big impact on local water use.
According to the Regional Water Authority, Sacramento-area residents reduced their water use by 17% in October compared to October 2020. Some cities, such as Roseville, reduced water use by more than 20%. October's statistics were released Wednesday.
That same month, Sacramento received a record 6.71 inches of rain, more than three times normal for October.
"The significant decrease in October demonstrates just how much weather and landscape water use impact the region's overall water-use patterns as people turned off their sprinkler systems with the rain," said Amy Talbot, RWA water efficiency program manager. "
"Some of this savings will become permanent as water providers, such as the City of Sacramento, continue to experience a surge in rebate applications for replacing lawn with low-water landscaping."
Since the last major drought, Sacramento-area residents already had reduced their water consumption by 13%. These new reductions are on top of those savings.
RWA is the umbrella organization representing 20 local water providers serving about 2 million people in the greater Sacramento area.
Before October's rain, regional water providers did more than urge conservation while coping with severe drought and the longest dry spell in Sacramento history. According to the RWA's estimates, water providers used 34% more groundwater compared to previous years.
"Conservation is critical but not the only drought response underway," said RWA Executive Director Jim Peifer. "Operational adjustments, such as using more groundwater, also reduce the region's reliance on Folsom Lake and the Lower American River for drinking water, leave more water for the environment, but are far less dependent on external factors such as weather."
Despite that soggy October, we're not out of the drought yet. Customers are asked to continue conserving water during the fall and winter months – and work on saving year-round. Rebates are available now for retrofitting irrigation, converting turf to water-wise landscaping, upgrading appliances and more.
"We know that customers are responding to drought, but we need to work together to do more," Talbot said. "Keep up the good work by reducing landscape watering significantly and turning sprinklers off during rain, while continuing to water trees."
Water-wise tips, rebate information and watering guidelines for each water provider are available at BeWaterSmart.info .