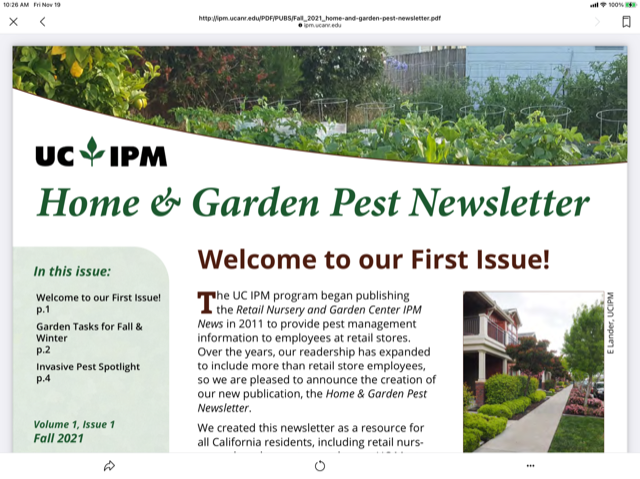 This is a screen shot of the first page of the new e-newsletter from UC IPM.
No gardener enjoys battling pests in spring. But there's a way to at least limit the damage: Do a thorough cleanup of the garden in fall and winter.
That's one of the messages in the new email newsletter from the University of California Integrated Pest Management program.
UC IPM is an invaluable resource for anyone who spends time with plants, from farmers to backyard gardeners. The program's experts, for example, track invasive pests that could ruin California's valuable agricultural output. On a smaller scale, they also recommend environmentally friendly methods of pest abatement so home gardeners can avoid using toxic chemicals.
All recommendations and information are solidly based on UC research. And pests, of course, aren't just insects but things such as weeds, invasive plants, diseases, birds, mammals and reptiles.
The newsletter will go out three times per year, produced by the Urban and Community IPM Team. Email signup is here.
Issue No. 1 includes an extensive list of garden tasks for fall and winter, starting with that all-important cleanup, but also pruning, planting, adjusting irrigation, monitoring for pests and lawn care.
The Invasive Pest Spotlight article focuses on the black fig fly, a new invasive species recently found in Southern California orchards.
The IPM program website, a veritable rabbit hole of pest information, is ipm.ucanr.edu .
-- Kathy Morrison