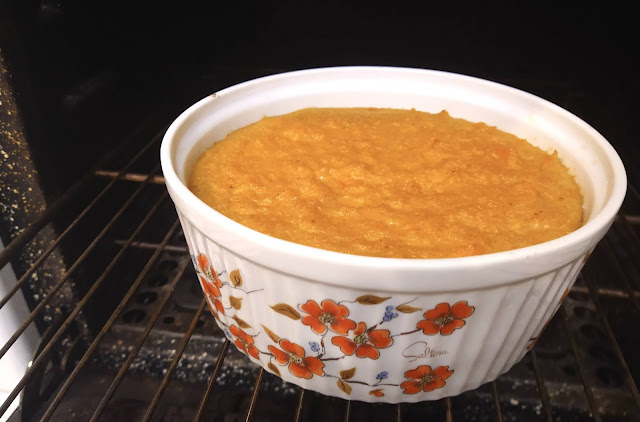 Who needs marshmallows? Butternut squash's beautiful golden-orange color adds to the festive look of the Thanksgiving meal. (Photos: Debbie Arrington)
Butternut squash subs for sweet potatoes in this lighter (and potentially healthier) version of a classic fall casserole. I say "potentially" because, like sweet potato casserole, it depends on what you put on top. Loaded with a layer of toasted mini marshmallows, it's hard to describe a casserole as "healthier."
But that's the beauty of this butternut dish; it doesn't need a fancy topping to be appealing. It's tasty plain and golden brown.
If you like pumpkin pie spice, add more than a half teaspoon, which gives just a hint of seasonal spiciness. Or use one or more of this handy spice mixture's ingredients: cinnamon, ginger, cloves, allspice and nutmeg.
Baked butternut squash casserole
Makes 6 to 8 servings
Ingredients: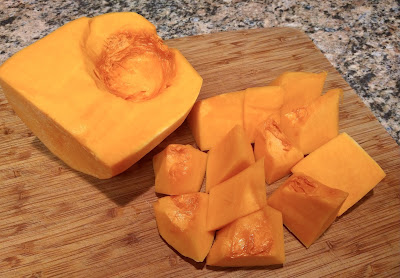 Butternut squash is peeled, seeded and cubed for the recipe,
which requires just a few other ingredients.
2 pounds butternut squash, peeled, seeded and cubed
¼ cup cream
1 egg, beaten
2 tablespoons sugar
2 tablespoons cornstarch
¼ cup (½ stick) butter or margarine, melted and cooled
½ teaspoon salt
½ teaspoon pumpkin pie spice (or more if desired)
Instructions:
Steam squash until tender. Mash. Set aside.
Preheat oven to 350 degrees F. Butter or grease a 2-quart casserole dish; set aside.
In a small bowl, mix together cream and beaten egg.
Mix together sugar and cornstarch. Add to cream mixture.
In a large bowl, combine mashed squash with melted butter. Fold in cream-cornstarch mixture.
Season to taste with salt and pumpkin pie spice.
Pour squash mixture into prepared casserole dish. Bake at 350 degrees about 40 minutes, until top is golden brown and, when inserted, a thin-bladed knife comes out clean.
Serve warm.
Note: Add to the sweetness, texture or crunch with something extra on top. Possible toppings: Graham cracker crumbs, chopped walnuts or pecans, mini marshmallows. Sprinkle topping over casserole before baking with the exception of marshmallows. Add marshmallows in final 20 minutes of baking to avoid over-browning.