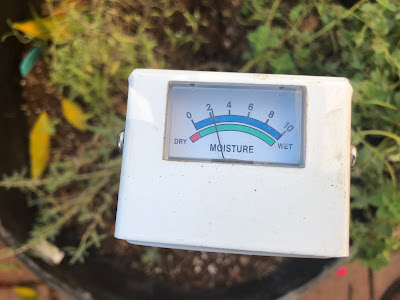 This moisture meter in a grow bag tells the story
of November: Mostly dry. (Photo: Kathy Morrison)


Totals so far this month similar to recent drought years
One bomb cyclone is not enough to end a drought.
October's deluge posted record one-day rain totals (including 5.41 inches at Sacramento Executive Airport), but a very dry November is putting that wet start to our rain year in perspective.
So far this month, we've received only .72 inches – about the same precipitation for November 2019 and November 2020. Normal for the month: 2 inches.
Our forecast for the remaining week (including Thanksgiving) looks dry, too. According to the National Weather Service, the next chance of rain won't arrive until Dec. 1.
That's after a soggy October in Sacramento that totaled 6.72 inches, more than four times average for that month.
Thanks to all that early rain, Sacramento is still in pretty good shape, water-wise, compared to where we stood in drought years 2019 and 2020. Sacramento Executive Airport has received 7.44 inches so far since our new rain year began Oct. 1. That's 41% of our average total (18.1 inches) and more precipitation than we received in all of the previous rain year (6.61 inches) that ended Sept. 30.
Although that stormy October made quite a splash, winter is when nature really builds its moisture reserves with Sierra snowpack at higher elevations and slow-moving, soaking rain in the Valley.
Unfortunately, our long-range forecast looks pretty dry. According to the Old Farmer's Almanac, our winter will be warmer and drier than average. Late December can expect some big storms, but January, February and March – usually our rainiest time of the year – will see lower than normal precipitation, perhaps 5 to 6 inches below normal.
With that dry forecast in mind, local water providers are still offering rebates and resources for water-efficient upgrades. Learn more at www.bewatersmart.info .