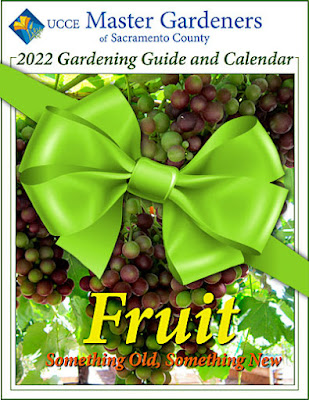 Gardening Guide and Calendar for Sacramento or Placer
Those gift-of-the-month deals are thoughtful, but how about a gift that gives every day of the year? Gardeners of all levels of experience will appreciate a Gardening Guide and Calendar created by local master gardeners. The Sacramento and Placer County groups each produce their own calendar, tailored for the local climate.
The Sacramento County Gardening Guide focuses on "Fruit: Something Old, Something New" for 2022, including descriptions of exotic fruit -- dragon fruit! jujubes! -- plus planting and pruning tips. The calendar has plenty of room to make notes on your garden's progress. I like to include weather details, too, so I can track rain, frost warnings and heat spikes.
But there is a wealth of other information packed into and along with the calendar portion. Monthly maintenance reminders, a vegetable planting chart, tips for frost protection and disease prevention -- it's like having your own garden consultant on hand at all times. Great photos, too.
All this for $10, including tax, when purchased in person at Sacramento MG events such as Open Gardens (next one is Jan. 22).  Alternatively, the Gardening Guide can be ordered online; see details here. Some area nurseries also sell the calendar, potentially for a slightly higher price. The list of those retailers can be found here .
Sacramento County's master gardener website is sacmg.ucanr.edu . Check it out for garden info of all kinds, as well as details on "Bright Lights, Garden Delights" to be held Monday evenings this month at the Fair Oaks Horticulture Center.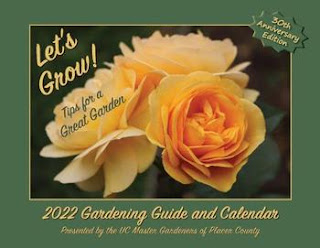 The Placer County Gardening Guide theme for its 30th anniversary edition is "Let's Grow! Tips for a Great Garden." It includes what to plant each month, pest management tips and gorgeous photos.
The Placer version is sold out online, but is still available at retailers in Placer, Nevada and El Dorado counties; the list of those is here . (It's best to call ahead and check whether a particular store still has the Gardening Guides in stock.)
The Placer County master gardeners' website is https://pcmg.ucanr.org/
-- Kathy Morrison