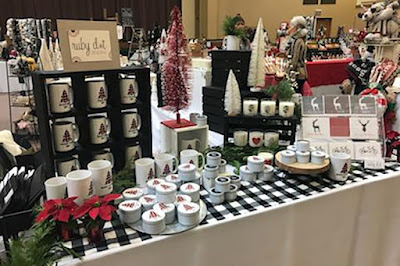 The Holiday Boutique and Cafe runs through Sunday
at Sacred Heart Parish School in East Sacramento.
(Photo courted Sacred Heart Holiday Home Tour)
Get into the holiday mood (and find some uniquely Sacramento gift ideas) during the annual Sacred Heart Holiday Boutique and Cafe, to be held today (Friday, Dec. 3) through Sunday, Dec. 5, at Sacred Heart Parish School in East Sacramento.
Usually this event is part of Sacred Heart's extremely popular Holiday Home Tour. But with pandemic concerns in mind, the home tour is on hiatus for the second consecutive year.
Before Covid, Sacred Heart's holiday celebration attracted thousands of visitors to East Sacramento. This season, the featured homes may be memories of holidays past, but the Sacred Heart spirit is very present at the boutique and cafe.
"(Since) 1973, residents of the Fabulous Forties have opened their homes to the public for the Sacred Heart Parish School Holiday Home Tour," said the organizers. "We hope to be back to welcoming people into these beautiful homes next year."
Instead, Sacred Heart School will host a cafe and boutique this year.
"All profits from the cafe directly support the school and a portion of all sales at the boutique go to support the school," the organizers said. "All proceeds from this year's event help to offset tuition and offer assistance to those who might not otherwise be able to afford a Catholic education."
The boutique features more than two dozen local vendors and craftspeople.
"There will be new vendors as well as the regulars, and the cafe will have items to-go, as well as the champagne bar we all enjoy," say the organizers.
Hours are: 12:30 to 6 p.m. Friday, Dec. 3; 10 a.m. to 7 p.m. Saturday, Dec. 4; and 11 a.m. to 5 p.m. Sunday, Dec. 5. Admission is free.
Patrons can still enjoy the sights and inspiration of spectacularly decorated homes Tour organizers posted "virtual tours" of 13 homes featured on past tours including such favorites as the Blue House featured in the movie "Lady Bird."
Sacred Heart Parish School is located at 856 39th St., Sacramento. For a list of vendors, go to:
https://sacredhearthometour.com/boutique
.