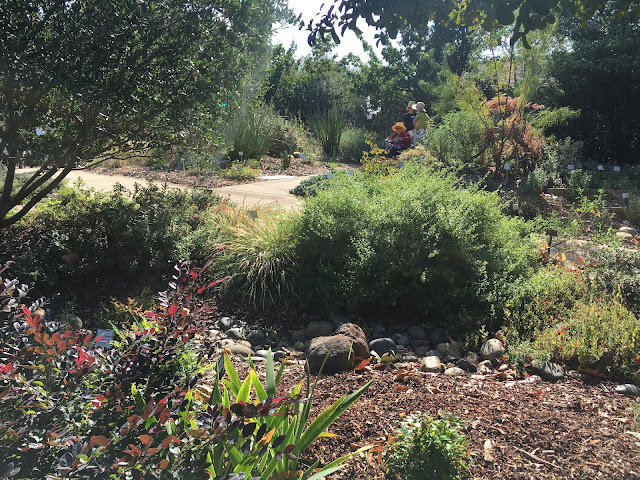 Big water-wise gardens, such as the Water Efficient Landscape at the Fair Oaks Horticulture Center, make efficient use of irrigation. Churches, schools and businesses can apply for funding to replace turf and upgrade irrigation systems. (Photo: Kathy Morrison)
Commercial properties and institutions such as schools or churches often have the biggest lawns. Local water providers want to help get those lawns irrigated more efficiently – or replaced with water-wise alternatives.
With the help of a new rebate program, Sacramento-area schools, churches and businesses can get up to $15,000 for water-wise landscape upgrades. To qualify, the commercial, industrial and institutional properties must be located within 5 miles of the Lower American River.
"Our goal is to make it easy for business and institutional customers to reduce their water use while also improving water quality," said Amy Talbot, Water Efficiency Program Manager for the Regional Water Authority (RWA), which is administering the program.
Most of our water use in the greater Sacramento region goes toward lawn and landscape irrigation. This rebate program isn't just about water use; it's about runoff, too.
About a third of landscape water use is lost due to overwatering and evaporation, Talbot said. "This program is designed to prevent the overwatering and runoff that carries fertilizers and pesticides from landscapes into the storm drain and directly into our rivers, streams and creeks."
According to the RWA, qualifying properties can receive funding to replace turf with beautiful low-water plants and trees, and to upgrade inefficient irrigation to high-efficiency sprinkler heads, weather-based irrigation controllers, drip irrigation and more. Rebate funding will cover both equipment and professional installation.
The program is available on a first-come, first-served basis until funding is depleted. To learn more, including eligibility guidelines, contact Chris Perry at rwaciiprogram@gmail.com or call 916-967-7653.
The rebate program is funded by a grant from the Bonneville Environmental Foundation.