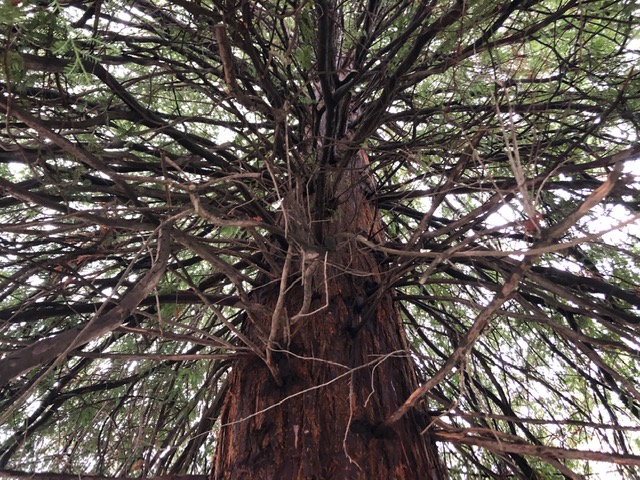 All those foliage-laden branches on a redwood tree can get heavy when rain collects on them. Check your trees for damage or changes during this stormy period. (Photo: Kathy Morrison)

During this break in the rain, it's time to go outside and check on our landscapes. Thanks to this latest atmospheric river, Sacramento got a lot of much-needed rain, but that saturated soil can create issues, too.
According to the National Weather Service, the greater Sacramento area received between 1.4 and 2.3 inches inches Monday, depending on the neighborhood. Sacramento International Airport recorded 1.46 inches. Meters at Sacramento State measured 1.86 inches. Lincoln got 1.98 inches and Auburn saw 2.32 inches.
And that's just the start of a wet week. Arriving late Wednesday, the next rain wave is expected to deliver another inch or more.
Although that precipitation does wonders for our water year outlook, it can create dangerous conditions for trees.
Years of drought have significantly weakened the roots of many big trees, particularly large conifers (such as redwoods or firs) as well as elms and birches (one of Sacramento's favorite lawn trees). Drought literally shrinks a tree's rootball, so they have less support to hold them upright. Other, often younger trees never had a good anchor in the first place.
Used to shallow watering from sprinklers, solitary "lawn trees" may never develop those strong deep roots. Just under the surface of the turf, lawn trees' roots are further weakened during drought when lawn irrigation is cut back.
We saw plenty of dropped limbs this week, too. Prolonged drought also causes tree dieback and dead or weakened branches. Those are the first to fall during a heavy winter storm.
But even well-hydrated trees – especially evergreens – can topple over under the right conditions: Saturated soil and big gusts of wind.
During winter, conifers – redwood, pine, fir, spruce, yew, juniper, cypress and their cousins – tend to be at greatest risk. These evergreen trees retain their foliage year-round and can become top-heavy. When it rains, those needles become saturated with water, holding extra weight on a tree's branches. That foliage also catches the wind like a huge sail.
In the forest, redwoods and other evergreens grow close together; their roots intertwine and help hold each other up. But in the suburban landscape, these big trees often are planted alone, without that extra support.
With more rain and wind expected, now is the time to access the damage – and maybe bring in a professional arborist.
Be careful of trees that may be leaning. If cracks appear in the ground around a tree's base, stay away – that's a major danger sign. Put up barrier tape to keep people from walking around it and call an expert.
Need advice? The Sacramento Tree Foundation offers advice on how to hire an arborist: www.sactree.com/hire or call 916-924-8733.