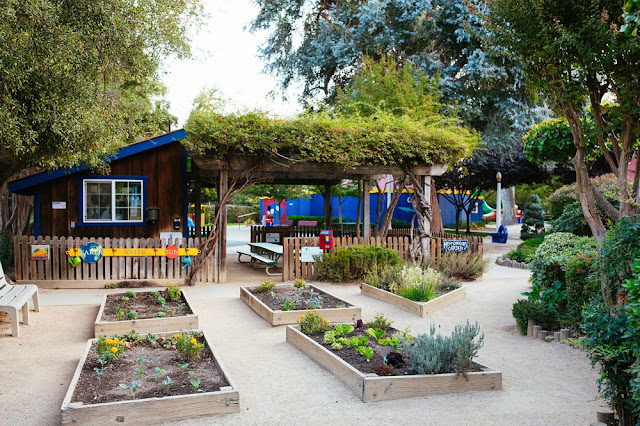 Mr. McGregor's Garden and other areas of Fairytale Town will be open during
the Sacramento site's "Winter Wonderland" event Dec. 18-19. (Photos courtesy
Fairytale Town)
Where does Santa hang out in Sacramento? Fairytale Town, of course!
This weekend, Santa will greet kids of all ages at Fairytale Town's "Winter Wonderland," another local holiday tradition that's back this season.
Adults will enjoy all the outdoor decorations, shopping for unique items and constant cheer. The one caveat: You need to be accompanied by a child to attend.
From 1 to 7 p.m. Saturday and Sunday, Dec. 18 and 19, Winter Wonderland will transform Fairytale Town into a holiday destination made for family fun. See holiday lights and festive decorations. Even play in the snow! (Yes, snow in Sacramento!)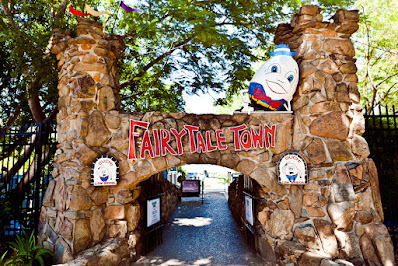 Humpty Dumpty welcomes visitors to Fairytale Town.
Tickets are now on sale and also may be available at the Fairytale Town box office during the event. Admission is $10; babies and toddlers under age 2 admitted free.
During the event, vendors will offer a wide range of arts and crafts. Victorian carolers will stroll the park from 4 to 6:30 p.m. A firepit will keep people warm, and guests can make their own s'mores. (Kits for $3 will be available at the Cafe; the firepit will be open for s'mores making starting at 4 p.m.)
As for the big guy himself, find Santa in his workshop from 3 to 6 p.m. Professional photos with Santa may be purchased or take your own. (Note: The Santa line closes at 6 p.m.)
Wrapping up the evening is a holiday-themed performance by the Balance Dance project at 6:45 p.m. and "snow fall" at 7 p.m.
Bring a gift, too. "Fairytale Town has partnered with
Las Madrinas
for a Holiday Toy Drive," adds the organizers. "If you bring in an item, you will be entered in for a prize."
During the event, the rest of Fairytale Town also will be open to visitors. Check out Mr. McGregor's Garden, the Victorian garden, wonderful trees and other sites as well as the fairytale-inspired landmarks such as Humpty Dumpty's Bridge.
Fairytale Town is located at 3901 Land Park Drive, Sacramento.
For tickets and details:
https://www.fairytaletown.org/calendar/winter-wonderland-2021-12-18/