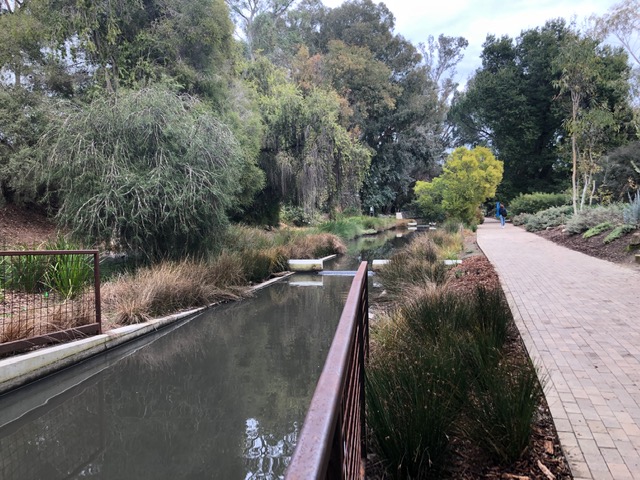 The UC Davis Arboretum in winter can be a serene place. The Friends of the
Arboretum get deals on plant sales at the Teaching Nursery, plus other benefits.
(Photo: Kathy Morrison)
I'm here to tell you that this gift-giving season goes too fast -- faster every year! Fortunately, the online world that drives so much of life also makes it easier to find something meaningful when there are only, uh <checks calendar> nine days until Christmas.
The cool thing, however, is that any of these ideas make great gifts year-round. So if your holiday shopping is done, put these ideas in your back pocket for Valentine's Day, Arbor Day, Mother's Day or any other celebratory event.
1) Memberships have benefits and support important work. The ones here have Sacramento region impact:
-- Friends of the UC Davis Arboretum. The Arboretum is a regional treasure, with its acres of native and other plants, quiet spaces to observe nature, and a top-notch Teaching Nursery. Friends get deals on the fall and spring plant sales in addition to supporting all the good work that goes into maintaining the Arboretum. For gift memberships, check this page . Individual memberships start at $48, and $72 for a family. The main Friends membership page is here .
-- California Native Plant Society. What virgin stands of native plants, large and small, that we still have around California would not exist without the tireless advocate and legal work of CNPS. But the organization also is involved in horticulture, particularly teaching Californians about the benefits and beauties of native plants in their own gardens. The membership page includes a link for gift memberships. Individual memberships start at $50 ($25 for students and fixed-income members). The Sacramento Valley Chapter is particularly active, and runs the Elderberry Farms nursery as a fundraiser.
-- Sacramento Tree Foundation. Sac Tree describes its mission as "stewarding the urban forest from seed to slab." The nonprofit doesn't have memberships as such, but accepts donations in honor of or in memory of someone, and they will notify the honoree of the gift if you wish. Donations can be in any amount; the suggested starting level is $25. https://sactree.givingfuel.com/donate
Of course, gardeners love to shop for plants and garden tools. You can order gift cards online or stop by at these local retailers:
-- Exotic Plants. Gift certificates for the Sacramento store's wide selection of indoor plants or arrangements are available by phone at (916) 922-4769 . The store will mail it to the recipient, or hold it for the purchaser to pick up. The website is here .
-- Green Acres Nursery & Supply. The local chain has seven locations in Sacramento and Placer counties. Gift cards can be ordered online for mail delivery. Five designs, in amounts from $25 to $500 can be chosen; custom amounts are available via in-store purchase.
-- The Plant Foundry.  The Oak Park nursery offers plants, garden supplies and all sorts of eclectic gifts. $40 e-gift cards can be ordered here . (Note: The Plant Foundry does not offer mail order for its stock but gifts can be purchased online and picked up curbside.)
-- The Secret Garden. This Elk Grove store is a great place to find succulents and plant containers, especially, but it also has lots of decor and gift items. Secret Garden offers customizable e-gift cards that can be sent to the recipient or to the giver.
-- Ace Hardware. Many of the hardware stores in this network are locally owned and operated. Probably the best-known one of the 19 in the Sacramento region is 113-year-old Emigh Hardware, which has well-chosen nursery stock and knowledgeable nursery staff. Ace offers eCards and mailed gift cards, both up to $250. Emigh also sells its own gift cards in store.