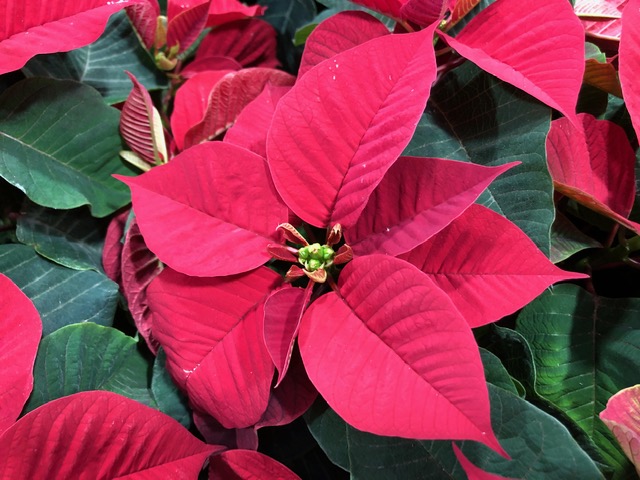 Poinsettias contain sticky white sap that is a form of latex. (Photo by Kathy Morrison)

Cats will be cats, and any houseplant can be a potential plaything.
That's no exception when it comes to poinsettias.
This popular holiday plant has long had a reputation as a kitten killer. But unless your feline really devours a lot of leaves, stems and flower buds, your poinsettia can co-exist with your pet.
According to VCA veterinary experts, poinsettias are not extremely toxic to pets.
"Poinsettias get a bad rap, but they're actually not nearly as toxic as most people think," VCA says. "Rather than being lethal, their sap is simply irritating, typically causing drooling and occasionally some vomiting, too.
"So if your pet nibbles your holiday poinsettia, you can rest easy; aside from feeling a little icky, your pet should be fine."
Usually, the taste of that white milky sap will keep cats – or other animals and kids – from eating more than a nibble. A form of latex, that white sap is very bitter – the better to keep animals and insects from eating the plant's leaves.
Poinsettia sap does contain mild toxic substances that, when eaten in quantity, can cause stomach upset and diarrhea. It has been known to get some people – particularly small children – very sick.
Poinsettias get extra drought tolerance from their sap, which helps the plant to conserve water. The sap also acts as an instant bandage; if the plant suffers a wound such as a broken stem, the latex quickly dries over the break and seals the damage. With its instant latex Band-aid, the plant doesn't lose more sap and can heal faster.