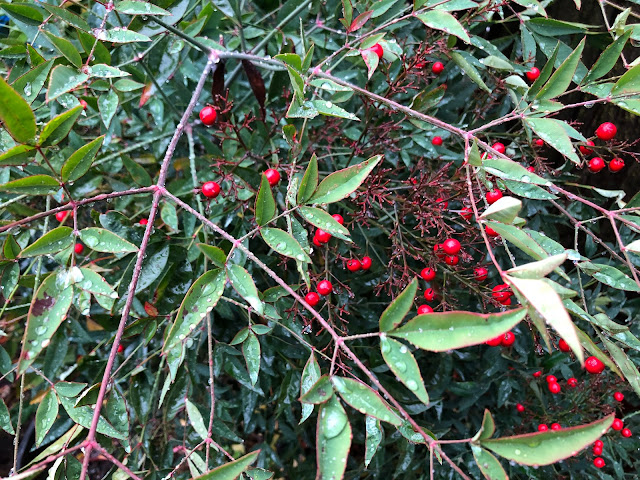 Raindrops decorate the garden. Sacramento communities received varying levels of rain this week. Snow has even crept into the forecast for some areas. (Photo: Kathy Morrison)
If you asked Santa for rain (or Sierra snow), you're very happy this Christmas weekend. You may even see snow at very low elevations – such as the Sacramento suburbs.
After fretting through a dry November, Sacramento weather watchers got a very wet December. Not counting Saturday morning, Sacramento has received 7.46 inches in December – more than double this month's average. In fact, that monthly total is more than we received all of the 2020-21 water year that ended Sept. 30.
This 2021-22 water year is proving to be "above normal." Through Friday noon, Sacramento had received 14.92 inches – 214% of average for our water year to date, according to the National Weather Service.
This week's storms delivered a lot more rain to some communities than others. Citrus Heights, for example, had received only 0.77 inches through Friday noon while rain in nearby Roseville measured 1.73 inches. Most of Sacramento got right around 2 inches of precipitation from these pre-Christmas showers.
Expect more rain through Tuesday, along with some frigid temperatures and "a slight chance of snow," says the weather service. Sacramento's predicted high for Tuesday is 40 degrees – 15 degrees below normal – with an overnight low of 31 degrees.
Temperatures will remain below normal for the rest of 2021 with days in the low 40s and overnight lows dipping below freezing, says the forecast. Plan accordingly.
With wet (and cold) ground, concentrate on above-ground activity:
* Protect tender plants from frost. Cover before sundown. Remove frost protection during day.
* Mulch also protects plants during threat of frost. Succulent plants are at particular risk if temperatures drop below freezing.
* Check for rot. Cold temperatures and soggy weather can rot succulents as well as tender bulbs and tubers. If drainage is poor, pull dahlia tubers and store in sand or sawdust.
* Don't expect newly planted seed or transplants to do much during these conditions. Mulch beds to keep those seedlings warm. Consider placing hotcaps or row covers over tender transplants.
* Be careful walking on soggy ground. Soil compaction kills beneficial microbes and damages plant roots.
* Survey your trees for any damage from recent storms. If a tree is leaning, call an arborist.
* Prune non-flowering trees and shrubs while they're dormant; it's easier to see their structure.
* Start pruning roses even if they're still blooming. Remove all remaining foliage.
* Rake and remove dead leaves and stems from dormant perennials.
* This is bare-root season. Shop for bare-root roses, berries, kiwifruit, grapes, artichokes, horseradish and rhubarb. Plant in moist, not soggy, soil; add compost to help drainage.