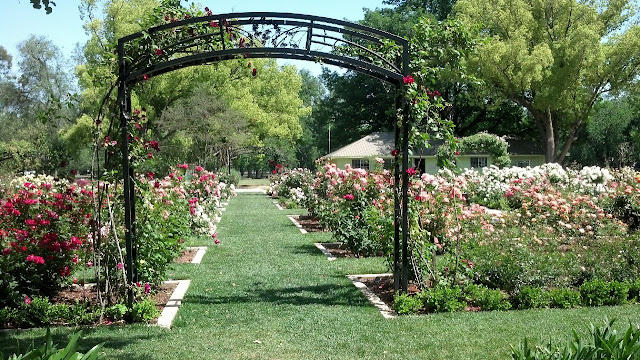 Getting the McKinley Park Rose Garden to look this good in spring takes a lot
of work in winter. The annual pruning event will be held this Saturday. (Photos:
Debbie Arrington)
Got shears? It's pruning time at McKinley Park's Memorial Rose Garden. Volunteers are needed for Saturday's annual Prune-athon, when the garden's 1,200-plus roses get a yearly trim.
No prior experience is necessary. It's a great opportunity to learn about rose care while also helping a beloved local landmark.
Experienced pruners are welcome, too. Wear thick gloves, long sleeves and closed-toe shoes.
Considered among Sacramento's most romantic places, the McKinley Park rose garden has been the site of hundreds of weddings and other special events. It was also featured in the hit movie "Lady Bird." This annual pruning helps those roses look so good in spring, summer and fall.
Volunteers need to be at least age 13 and must fill out a participation form, available here: https://wave.vomo.org/project/annual-pruning-event Registration and parking are free.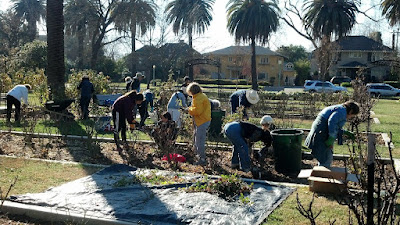 Many hands -- and pruning shears -- make the work go faster
at the McKinley Park Rose Garden. This photo is from several
years ago.
The prune-athon will start cutting at 9 a.m. Saturday, Jan. 8, and continue until 1 p.m. Volunteers will be treated to a hot soup lunch, courtesy of Friends of East Sacramento.
Questions? Email friendsofeastsac@aol.com.