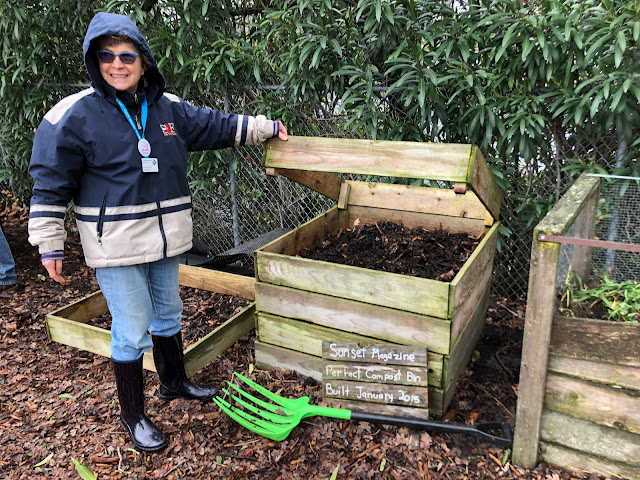 During a 2019 winter Open Garden, master gardener Colette Armao shows what the Compost Team considers the perfect compost bin. (Photo: Kathy Morrison)
A new year brings a new schedule of garden events, along with the hope that they actually will happen. If the pandemic has taught us anything, it's that events scheduled also may be canceled or postponed at the last minute, so keep that in mind.
* Open Garden, 9 a.m. to noon, Saturday, Jan. 22. The Sacramento County master gardeners will be back out in the world this month to answer home gardening  questions at the Jan. 22 Open Garden at the Fair Oaks Horticulture Center. Pruning will be the primary topic, since fruit trees and other plants are in dormancy, when pruning is recommended. The Orchard Team of master gardeners will be on hand to talk about pruning techniques and tools, as well as answer other questions.
But the entire Horticulture Center will be open for browsing, with master gardeners stationed in each area. This is a great opportunity to learn about composting, including worm composting, plus topics such as winter vegetables, perennial herbs and California natives that bloom in cold weather. Ask about seed starting, too!
This also is a great time to purchase in person the master gardeners' 2022 Gardening Guide and Calendar, if you have't already. Just $10 for a wealth of gardening information, and plenty of space to write reminders and notes.
The Hort Center is at 11549 Fair Oaks Blvd., Fair Oaks. It's just south of the library and Fair Oaks Park, which are at the southwest corner of Madison and Fair Oaks Boulevard. The UCCE Sacramento County master gardeners' website is sacmg.ucanr.edu and the Facebook page is facebook.com/sacmg
* Open Garden, 9 a.m. to noon, Saturday, Feb. 12. Same location, same format as the Jan.22 event, but the focus will shift to late winter and early spring vegetables, bulbs, and late winter pruning, especially berries. Check out the changes in the Water Efficient Landscape (WEL) garden as plants begin to wake up.
Hope to see fellow gardeners at either or both of these great events!
— Kathy Morrison (Look for Kathy M. Hellesen among the badge-wearing master gardeners. I'm often in the Herb Garden area.)