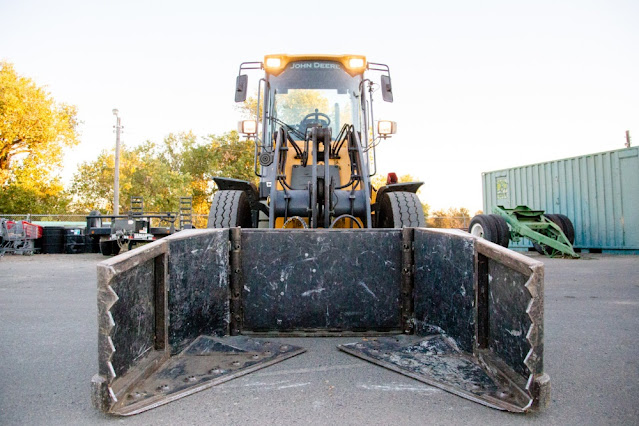 The Claw will be performing street pick-ups later into the year, the City of Sacramento decided. (Photo courtesy city of Sacramento)
Sacramento's leaf season is lasting longer this new year.
Instead of its original Jan. 23 cutoff date, the City of Sacramento extended its in-street pick-up of garden waste and Christmas trees two weeks. The last date to put green waste curbside is now Feb. 6.
A quirky Sacramento tradition, in-street pick-up is limited to November through January. But city crews that operate The Claw – the articulated tractor used to scoop up the piles – have been running way behind schedule. Due to staffing shortages, Sacramento has been operating only five Claw crews; in past years, they've had eight.
Heavy storms in October and December further complicated pick-ups. Meanwhile, piles in some leafy neighborhoods continued to grow and grow. Both the Sacramento Bee and local TV stations reported this week about delays. The City of Sacramento already had extended its leaf season schedule to attempt to catch up.
Usually, The Claw visits residential streets seven times during leaf season, with pick-ups spaced about two weeks apart. Residents can get an estimate of when The Claw will arrive on their street using the Leaf Season collection calendar. Find the link at S acLeafSmart.org .
Some reminders:
* When recycling Christmas trees, trees should be clean of all lights, tinsel, tree stands, nails and decorations. Flocked trees will be accepted.
* Leaf piles can be no bigger than 4 by 4 by 9 feet (and just one per household). Make sure there is space between the pile and the curb so water can flow down the gutter. Also, place the pile at least 6 feet away from cars, boats, basketball hoops or other obstructions. The Claw needs room to maneuver.
* Don't put plastic bags in street piles (including bags full of leaves). And don't contaminate the leaf pile with trash or dog poop (a common problem).
* During leaf season, the City of Sacramento continues to pick up green waste containers. Fill those first before piling leaves in the street, advises the recycling and solid waste department. The containers will get picked up 13 times during Leaf Season while residents can expect seven visits from The Claw.
For more information: SacLeafSmart.org .