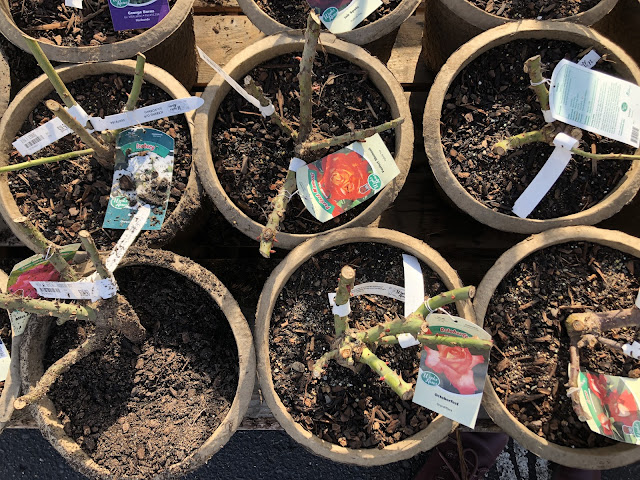 It's bare-root season, when the best selection (and price) can be found on roses
and fruit trees. Many nurseries pot their bare-root plants to protect the roots, as
above. (Photo: Kathy Morrison)
Expect this week to follow a pattern: Foggy conditions will keep mornings damp – but not soggy. Afternoon sun may break through to dry things out (a little). Fog materializes again overnight. Repeat.
According to the National Weather Service, Sacramento will see fog almost every morning this week. It will keep daytime highs in the low 50s (normal for January) and overnight lows right around 40 (also average). But no real rain is in the forecast (yet).
It's a good time to get stuff done! Hold off on spraying fruit trees until we have clear, cloudless and calm days; with all that fog, there's still too much moisture in the air. Horticultural oils need at least 24 hours of dry weather to be effective. But it's a great time to prune.
* Prune most deciduous trees and shrubs. The exceptions are spring-flowering shrubs such as lilacs.
* Now is the time to prune fruit trees except apricots and cherries (prune those in late summer). Clean up leaves and debris around the trees to prevent the spread of disease.
* Prune roses, even if they're still trying to bloom. Strip off any remaining leaves, so the bush will be able to put out new growth in early spring.
* Prune Christmas camellias ( Camellia sasanqua ), the early-flowering varieties, after their bloom. They don't need much, but selective pruning can promote bushiness, upright growth and more bloom next winter. Feed with an acid-type fertilizer. But don't feed your Japonica camellias until after they finish blooming next month. Feeding while camellias are in bloom may cause them to drop unopened buds.
* Clean up leaves and debris around your newly pruned roses and shrubs. Put down fresh mulch or bark to keep roots cozy
* Divide daylilies, Shasta daisies and other perennials.
* Cut back and divide chrysanthemums.
* Plant bare-root roses, trees and shrubs.
* Transplant pansies, violas, calendulas, English daisies, snapdragons and fairy primroses.
* In the vegetable garden, plant fava beans, head lettuce, mustard, onion sets, radicchio and radishes.
* Plant bare-root asparagus and root divisions of rhubarb.
* In the bulb department, plant callas, anemones, ranunculus and gladioli for bloom from late spring into summer.
* Browse through seed catalogs and start making plans for spring and summer.