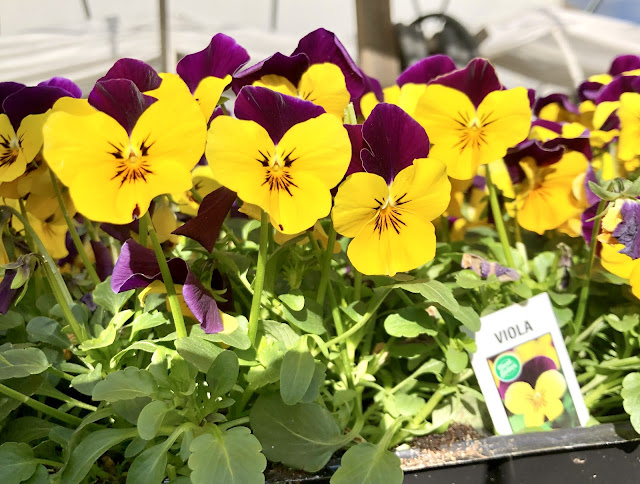 Violas add color to the winter garden. Other flowers to plant now: Pansies, snapdragons, English daisies, calendulas and fairy primroses. (Photo: Kathy Morrison)
We're settling into another winter dry spell.
According to the National Weather Service, no rain is in the Sacramento forecast for at least a week. Chance of precipitation: "0%," says the weather service through Friday – and likely for next weekend, too.
Morning fog and afternoon clouds will keep temperatures mild and slightly above normal. Afternoon highs will hover around 60 degrees most of this week with overnight lows barely dipping into the 30s.
This streaky dry pattern has become normal for Sacramento winters. Reviewing the past few decades, KCRA weatherman Mark Finan reports that Sacramento dry streaks between Jan. 1 and Feb. 28 average 22 consecutive days without rain.
Make the most of these dry days. Get to work!
* Prune, prune, prune. Now is the time to cut back most deciduous trees and shrubs. The exceptions are spring-flowering shrubs such as lilacs.
* Prune fruit trees (except for apricots, cherries and citrus). Clean up leaves and debris around the trees to prevent the spread of disease.
* Prune roses, even if they're still trying to bloom. Strip off any remaining leaves, so the bush will be able to put out new growth in early spring.
* Clean up leaves and debris around your newly pruned roses and shrubs. Put down fresh mulch or bark to keep roots cozy.
* Apply horticultural oil to fruit trees soon after a rain to control scale, mites and aphids. Oils need 24 hours of dry weather after application to be effective.
* This is also the time to spray a copper-based oil to peach and nectarine trees to fight leaf curl.
* Plant bare-root roses, trees and shrubs.
* Transplant pansies, violas, calendulas, English daisies, snapdragons and fairy primroses.
* In the vegetable garden, plant fava beans, head lettuce, mustard, onion sets, radicchio and radishes.
* Plant bare-root asparagus and root divisions of rhubarb.
* In the bulb department, plant callas, anemones, ranunculus and gladioli for bloom from late spring into summer.