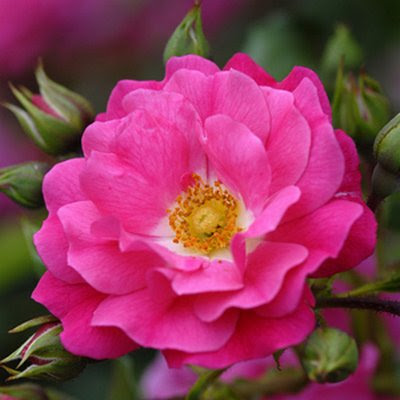 Flower Carpet Pink was the first of the Flower Carpet
roses and is still the most popular. (Photo courtesy
Anthony Tesselaar)
Question: Do you have specific recommendations for pruning back carpet roses? I'm usually pretty indiscriminate and just cutting it down to a cane length of about 12 inches. Again, pretty indiscriminate. Should I get in there and cut away individual canes, even if they're not dead and brown? Other advice?
--Brian Hudson
Answer: Carpet and landscape roses are very forgiving. They can be pruned with a hedge trimmer because the nodes (where the leaves attach to the canes) are so close together. But they appreciate some TLC and will bloom more with thoughtful pruning.
Carpet roses get their nickname from the brand name, Flower Carpet. Several "groundcover roses" are marketed under that label, all by color: Scarlet, Coral, Pink, Red, White, Yellow, Amber (a glowing yellow-orange) plus the more evocative shades of Appleblossom, Pink Splash and Pink Supreme.
Originally hybridized in Germany, Flower Carpet roses are best sellers worldwide, with an estimated 50 million sold annually. Introduced in 1992, Flower Carpet Pink was the first of this series to be grown in the U.S. and is still the most popular.
Marketed as super easy-care, carpet roses need little maintenance other than annual pruning. They're "self cleaning," which means spent flowers drop off by themselves – no need for deadheading. They're highly resistant to fungal diseases, bloom profusely from spring to fall and take less water than lawn. Another plus: They can tolerate air pollution from car exhaust, making them a good choice for parking lots and street landscaping.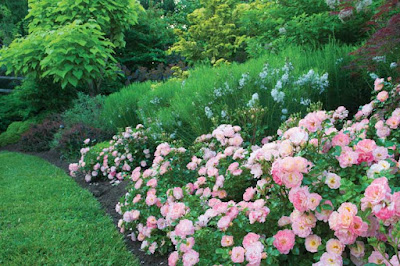 Peach Drift roses make a pretty garden hedge when planted
in a mass. (Photo courtesy Star Roses and Plants)
Drift groundcover roses, created by California-based Star Roses and Plants, offer many of the same easy-care attributes as Flower Carpet roses. Drift roses are a cross of earlier groundcover roses and miniature roses. The Drift series, which now has nine varieties, features more orange tones and very full blooms with lots of petals: Apricot, Coral, Peach, Lemon, Pink, Popcorn, Red, White and Sweet (baby pink).
As their name implies, groundcover roses grow low with a trailing habit, staying under 24 inches tall. While staying low, they can spread 6 feet wide. That trailing habit also makes them attractive in pots or hanging containers, or along walls where they can drape over the edge.
I prune my landscape roses to 15-18 inches tall; they don't need much, height-wise. The question is width; sometimes, canes can invade other plants' space so their spread needs to be tamed.
I take out any dead wood plus crossing canes in the center of the plant to improve air circulation (which cuts down on any fungal growth). They tend to get really dense with canes if you don't take some out. Ideally, leave five to seven canes for these roses. (More is OK, too.)
Strip off any remaining leaves; they can contain fungal spores that will infect the new growth.
After pruning, give these roses new mulch, but hold off on fertilizer until late February.