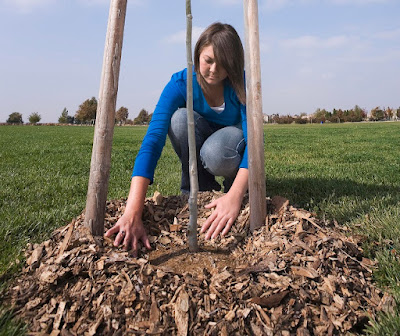 Tree planting is an important part of Sacramento
Tree Foundation activities, and all ages are welcome.
(Photo courtesy Sacramento Tree Foundation)
It's time for the City of Trees to embrace the River District!
Volunteers are needed by the Sacramento Tree Foundation to plant trees Saturday morning in the River District Business Park.
The River District is northwest of downtown Sacramento, extending from the confluence of the American and Sacramento rivers to the Highway 160 area. The tree planting site will bring young trees to one of the Sacramento's fastest-changing areas.
Volunteers will meet  at 1103 N. B St. at 8:45 a.m. Saturday, Jan. 22, with work wrapping up at noon.
"Join us as we plant trees in front of one of businesses in the River District," says SacTree. "Planting trees … helps create more welcoming communities, assists in reducing businesses energy bills, attracts more shoppers, and encourages everyone to get outside – helping make these communities more livable and lovable!"
Registration is free, but volunteers need to register in advance. Directions and other information will be sent via email before Saturday morning. Sign up here: https://sactree.org/event/river-district-business-tree-planting/
Volunteers of all ages will be welcome; participants under age 16 must be accompanied by an adult. SacTree in particular hopes to attract people who live or work in the River District.
Close-toed shoes are required. Long sleeves and pants are recommended as well as gloves. As for pandemic protocols, attendees should wear face masks and stay socially distanced while working. No proof of vaccination is needed.
"We provide all the necessary tools and supplies to care for trees," says SacTree. "Participants will receive a short, hands-on training on site. After learning the tools and techniques, participants will split up into groups and begin planting trees."
January is a great time to plant trees in Sacramento. Volunteers also will learn the techniques they need to plant trees at their own homes.
Questions? Contact Kimmy Boyle, River District Project Coordinator, at kimmy@sactree.org or 916-214-9682.
Details: www.sactree.org .